The year in review told through Current articles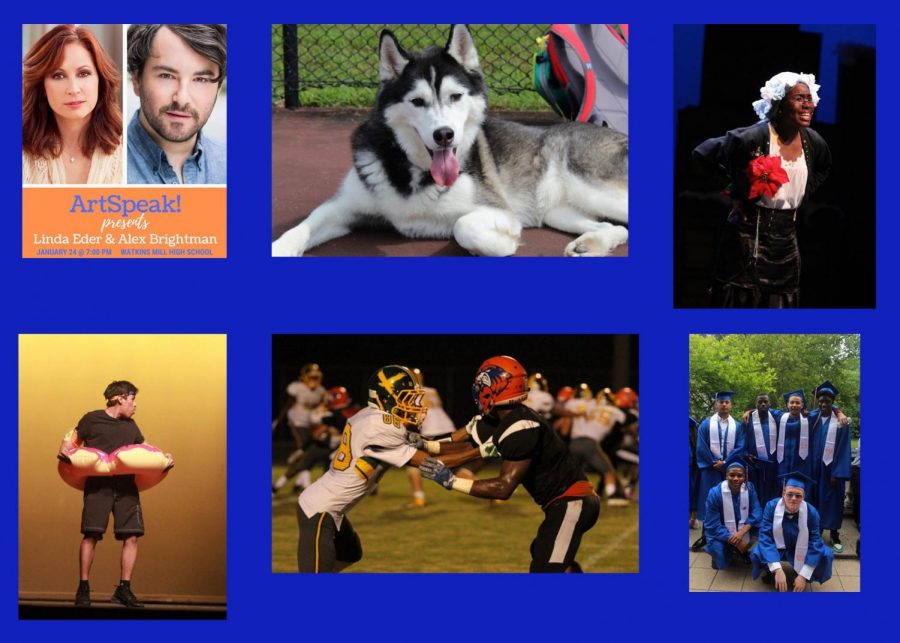 The 2018-2019 school year generated 238 articles by the Watkins Mill High School Current. From political stances taken by students to the chaotic fun the class of 2019 displayed on their last day of school, there have been a lot of things to talk about.
Here are some highlights from a memorable year:
September 2018
September 24: Football defeats Seneca Valley for first time in school's history
Wolverine football defeated Seneca Valley High School on Friday, September 21 with a decisive 32-12 victory. In this historic game, the Wolverines beat the Screamin' Eagles for the first time since the school opened in 1989.
September 27: ELITEs visit African American History museum on field trip
The ELITE men of Watkins Mill High School took a field trip to the National Museum of African American History and Culture in Washington, DC on September 20 to gain cultivated experience.
September 27: Health students play with dogs to learn about therapy animals
Whether you call them doggos, puppers, woofers, or just plain canis lupus familiaris, dogs are arguably the cutest little animals in the world.
October 2018
October 22: ESOL teachers help foreign students get past language hurdles in school
The reality for English for Speakers of Other Languages (ESOL) students at Watkins Mill High School is that they often arrive on their first day of school not being able to speak or ask anyone for help because they don't know English.
October 24: Video: Child Development plays with fire… trucks
Montgomery County Fire Department visited 11 of the Watkins Mill High School Child Development students.
October 25: In wake of school shootings, new security measures aim to keep students safe
Last year, two major school shootings in Parkland, Florida and Santa Fe, Texas sparked a national push for school safety laws.
But what is Watkins Mill doing to prevent danger and protect the school against attacks?
November 2018
November 8: Key Club shows appreciation for building service workers through luncheon
On October 26, the Key Club at Watkins Mill hand made decorations and held an appreciation luncheon for all members of building services during STEP.
November 27: ESOL theatre students learn stage combat from professional actors
ESOL Theatre students participated in a two-part Master Class on stage combat on November 19 and 20. The event took place in the cafeteria during third period classes.
November 30: O'Shea Players bring ghosts, holiday cheer in performance of Dickens' Christmas Carol
The O'Shea Players will perform their winter play of A Christmas Carol beginning this weekend. This sparkling production is a great way to kickstart the holiday spirit.
December 2018
December 7: Four students attend 'Becoming Michelle Obama' for free, learn valuable life lessons
Four seniors, Jessica Cruz, Andre Tulloch, Charisse Warfield and Khava Tsarni, had the opportunity to attend Becoming: An Intimate Conversation with Michelle Obama, on November 25 at the Capital One Arena in Washington, D.C.
December 9: Credit recovery class provides in-school time to help students graduate on time
Watkins Mill High School is taking a new approach to try and help students graduate on time.
While Watkins Mill has a variety of programs to help students make up credits like summer school and High School Plus, the newest option builds that time into their schedule and uses an online certified program to make up failed credits or state tests.
December 18: Santa who? Senior recounts her less-than-merry Christmases
Having a broken home doesn't hit you until this time of the year. The holidays are family-oriented. Only seeing half of that can be depressing.
December 21: Video: It's Santa Time!
Watkins Mill Alumni Tyler Lewis returned to the Mill as Santa to lift holiday spirits and have some fun.
January 2019
January 17: Posse winner selected as Gates scholarship semi-finalist
Posse Scholarship winner, senior Andre Tulloch is now a semi-finalist in the prestigious Gates Scholarship. Winning would award him a full ride to a school's undergraduate program of his choice.
January 25: Broadway artists share trade secrets at ArtSpeak
Art Speak is a free program for students that brings performing artists to the Washington D.C. area. It was created in Bethesda, Maryland by Shugoll Research and there are four events a year. Each event takes place for free at a high school in the D.C. area.
January 31: Students solve problems at MLK Global Youth Leadership and Social Innovation Conference
On January 19 and 20, a group of select Watkins Mill students attended the Martin Luther King, Jr. Global Youth Leadership and Social Innovation Conference at the University of the District of Columbia.
February 2019
February 4: Science teacher soldiers on at school while battling breast cancer
"Many adults and students come to school each day facing invisible challenges. My challenge just happens to be visible," science teacher Lauren Wilkinson said.
February 5: IB Sports Health classes dissect cow parts to learn about heart health
IB Sports Health classes dissected cow hearts, filled lungs with air, and examined a femur with knee joint to learn about the skeletal system today.
February 26: Wolverine Time helps ESOL students transition to life in Maryland, build academic skills
Watkins Mill is one of the only two schools in Montgomery County with a special program for ESOL students, funded by the Maryland 21st Century Community Learning Centers grant.
March 2019
March 19: Senior Khava Tsarni serves as student page in Maryland General Assembly
Senior Khava Tsarni is representing Watkins Mill High School and Montgomery County Public Schools as a student page in the Maryland General Assembly this year.
March 21: International Night wows with cultural dances, cuisines, music
On Thursday March 14, Watkins Mill held its annual International Night. There were students representing countries from Africa, Central America, South Asia, Europe and more who participated in the event.
March 25: Robinson named Bethesda Magazine 'Top Teen' for her humanitarian efforts
After being homeschooled from kindergarten to eighth grade, senior Jubilee "Lee" Robinson entered the halls of Watkins Mill High School on the first day of freshman year with her short and very bright pink hair, ready to take on any challenge that came her way.
April 2019
April 5: Review: Sister Act keeps faith alive in O'Shea Theater
The O'Shea players' production of Sister Act The Musical debuted this past weekend as the spring musical with repeat performances tonight and tomorrow night at 7pm.
April 24: Things I ALWAYS hear while wearing my hijab
"You're in America, you know you don't have to wear that right?"
"Aren't you hot in that?"
"Can you just show me what your hair looks like?"
"Does your dad force you to wear that?"
"Do you shower with that on?"
"Do you sleep with that on?"
"You look so much prettier without it!"
"Why do you wear a scarf, but your sister doesn't?"
April 26: Joseph Alminagor crowned as 2019 Mr. Watkins Mill
Hear ye, hear ye, make way for the newly-appointed Mr. Watkins Mill, Joseph Alminagor. Give him a crown, a lei and of course, the most prized honor, the Golden Wolverine. Last night was a night to remember as ten senior boys fought for the title of Mr. Watkins Mill, yet one truly wowed the crowd.
May 2019
May 24: Seniors spend last day in style, host BBQ with bounce house, water slide
As seniors are getting ready to leave they're planning on going out with a bang. Today the senior class held their annual senior prank and cookout for their last day on campus.
May 24: Video: Goodbye Class of 2019
The seniors have one last hoorah while the class of 2020 prepares to take over the Mill. We wish you well and you will be missed!
May 30: Academy of Finance students place second in Business Pitch Challenge
Academy of Finance students won second place in the Montgomery County Business Pitch Challenge on April 30, after competing against other schools at the Carver Educational Services Center in Rockville.
June 2019
June 4: Documentary shows football team has 'No Fear' in tackling challenges
The documentary film No Fear, starring the Watkins Mill High School 2017-2018 football team, premiered at WMHS on Friday, May 31 and depicted the behind-the-scene struggles and triumphs of the players and coaches.
June 5: Wilkinson celebrates positive prognosis, warns students to check for changes
Science teacher Lauren Wilkinson is on track for a prognosis of being breast cancer free after a double mastectomy and a biopsy that showed a complete absence of cancerous cells.
June 10: Photo Feature: Graduation 2019
On June 7, the class of 2019 graduated from Watkins Mill High School at DAR Constitution Hall.

Hits : 1803
About the Writer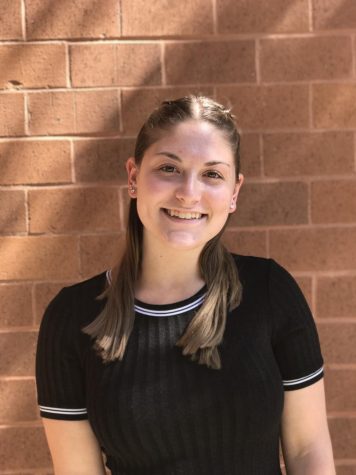 Jade Pinkowitz, Editor-in-Chief
Jade is a senior at Watkins Mill High School and Editor-in-Chief for The Current. She is a four-time varsity girls volleyball player and involved many...