Key Club shows appreciation for building service workers through luncheon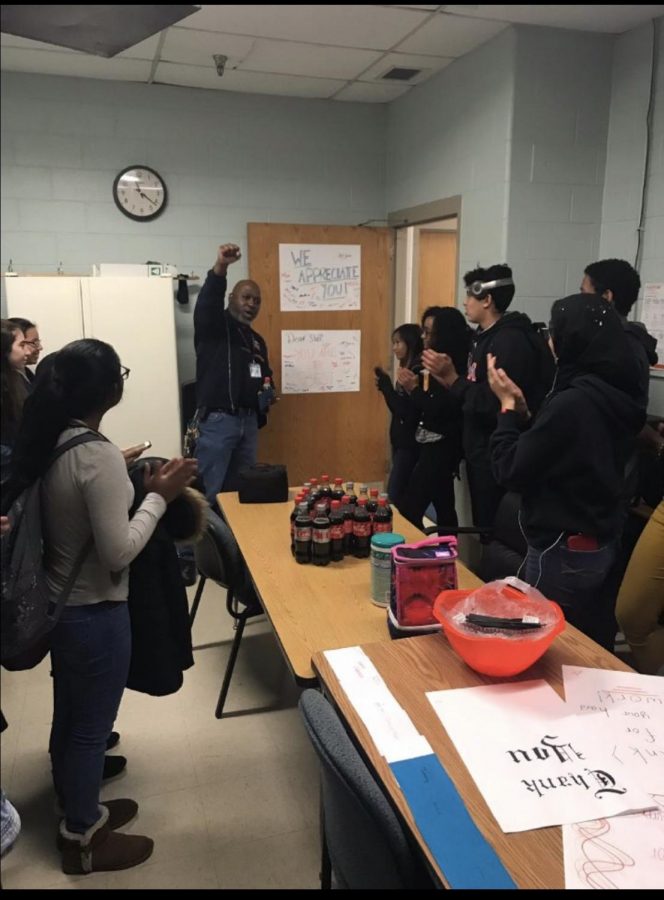 On October 26, the Key Club at Watkins Mill hand made decorations and held an appreciation luncheon for all members of building services during STEP.
At their first meeting, a suggestion mentioned on Google Classroom for their first project was brought up to the entire group, who instantly agreed to put things into play. A member who worked at Chipotle told their manager about the idea, who then offered to donate food for the staff.
Students specifically planned the event to recognize staff for all their hard work that often gets overlooked. "We just thought that [building services] are literally some of the most hard working, helpful people in the school so we wanted to do something nice for them because of how much they do for us," junior Key Club president Shanzae Malik said.
Though they were not able to eat right away due to differing schedules, the building service workers seemed thrilled with the students' efforts. "It was really nice of the students," building service worker Maria Castellon said. "We really enjoyed [the lunch]. Thank you guys so much."
The club, which has been inactive since March 2017, is being reinstated this year at The Mill. All students are welcome to join Key Club, but there is a one-time membership fee of $12. The fee goes towards covering all project expenses from the point students join to their graduation from the school.
"I hope to improve my leadership skills and make sure everyone is involved in all of the projects… I feel like it will help us in the future," Malik said.
The goal of the service program is to encourage leadership through serving others. Club members earn student service learning hours while participating in virtuous activities and lending a hand around the community.
"I want students to be able to learn as many leadership skills possible and actually what it means to give back to the community without getting anything in return… building leadership skills, and really understanding the core of what community service is," ESOL teacher and sponsor Simarajeet Sandhu said.

Hits : 2508
About the Writer
Mariam Bukhari, News Managing Editor
Mariam Bukhari is a junior at Watkins Mill high school and a News Managing Editor for The Current. She is on the class of 2020 student council and Mariam...