International Night wows with cultural dances, cuisines, music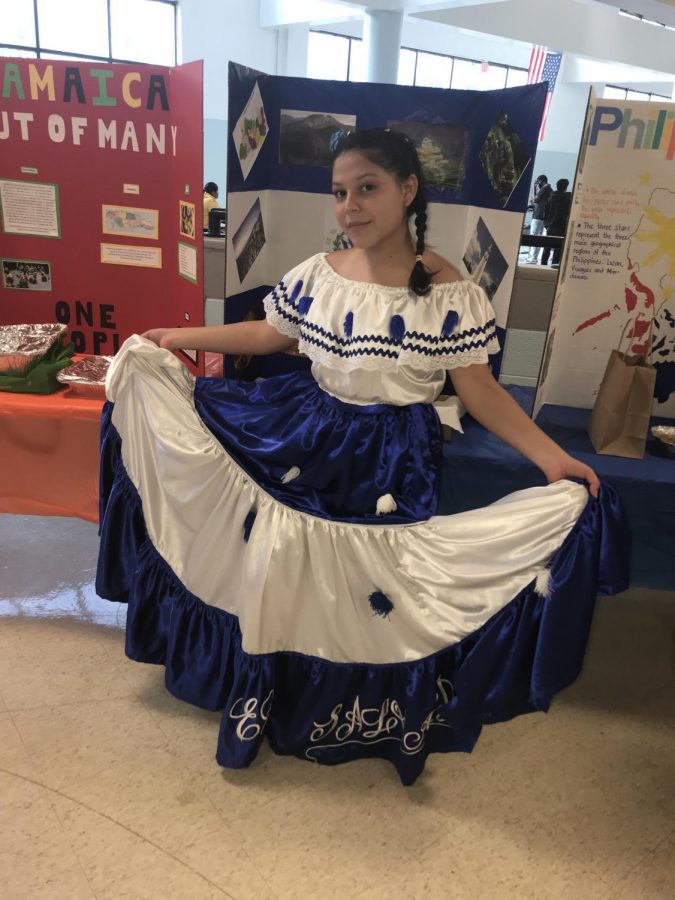 On Thursday March 14, Watkins Mill held its annual International Night. There were students representing countries from Africa, Central America, South Asia, Europe and more who participated in the event.
International Night is when the students of Watkins Mill unite to express themselves and show off who they are by displaying their cultures with food, posters and clothes.
Watkins Mill's Latin Rock Band called the "Chicos de Pueblo" performed, along with the K-Pop group NOVA, the African Dance Group, senior Yohanna Solomon with an Ethiopian dance, and OLAS.
There was also a poetry recital by seniors Ashley Villars and Ife Abiola. Then there was the cultural attire fashion show with 12 models, followed by the food tasting from several of the countries and display boards.
Senior Phillip Kostin hosted the event. "I was the glue that sealed everything together, because as every performance flowed I got everyone together and ready," Kostin said.  International Night "was fascinating."
"The more we learn about different cultures, the more our minds open and the less we hate, that's the message I brought to [International Night,]" Kostin added. "The diversity of this county is something to be proud of, [it is one of the] most diverse counties in America."
Junior Adilia Sequeira participated in the fashion show and dressed in her cultural dress from Nicaragua. She also made a poster about Nicaragua and brought food. "International Night was great," Sequeira said. "There was so much food and a lot of people, it was a good environment, and I got to see a lot of different cultures."
Additionally with the food brought by the students, Culinary teacher Emily Nalda made with her students: kolache cookies, empanadas, baked mini tortillas, pad thai tasting cups, and chicken shawarma.
Junior Isatu Bah helped out with making the food, then went to go and enjoy International Night."It was really fun, especially the dances, it was so exciting," Bah said. "The booths had really good food. I can't wait for next year."

Hits : 1469