Health students play with dogs to learn about therapy animals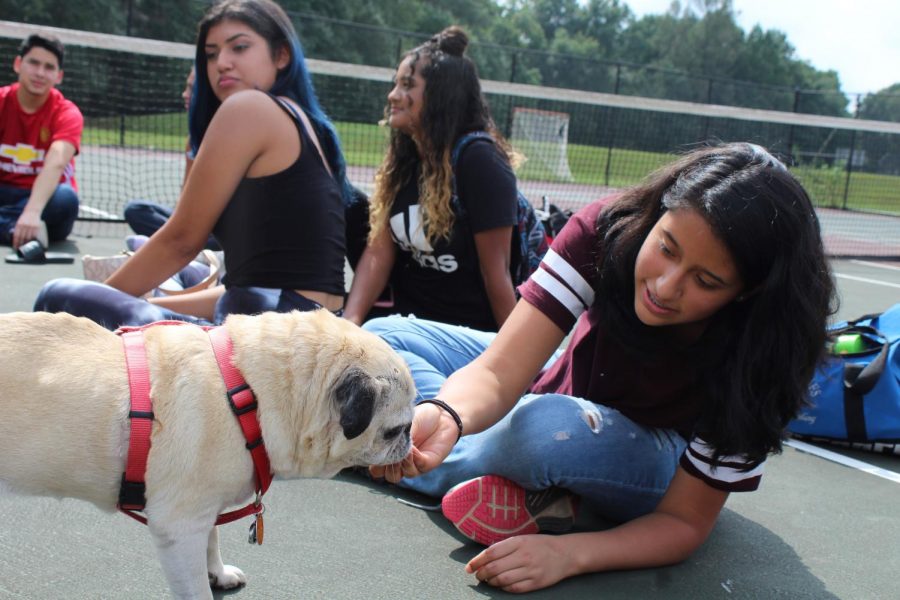 Whether you call them doggos, puppers, woofers, or just plain canis lupus familiaris, dogs are arguably the cutest little animals in the world.
On September 20, health students spent a period learning about the importance of taking the time to regenerate and relax, and what better way to relax than to be around dogs? Students got the chance to listen to music, play with dogs and meditate.
Students rotated around three stations: meditation, music and dogs. The meditation session was held inside. They were led by health teachers Kristina Smyrk and Jenna Essenmacher. The music station was outside and it allowed students to plug in their headphones and observe Watkins Mill's beautiful landscape. At the third station, students got to pet the dogs.
"It was fun because you got to play with the dogs and they were all calm and it calmed you down," sophomore Griffen Maclaren said.
Permission slips were sent home for parents to read and understand the objective of the lesson. If students had allergies or a fear of dogs, they were not forced to participate and just repeated another station.
"It's going to benefit everybody in the room as to understanding emotions and what gets them emotionally charged," principal Carol Goddard said. Goddard plans to talk to the principal at Walt Whitman High School, where therapy dogs are brought in regularly for stress relief.
There were a total of three dogs: a husky named Kiah who belongs to Smyrk, PJ the Pug who belongs to Smyrk's mom, and Rio, a licensed therapy dog that Essenmacher brought.
"I feel like I needed that because I am pretty stressed," sophomore Vanessa Navarrete said. "Being with the dogs helped relieve a lot of my stress and it was fun."
Over the years, numerous research studies have validated the physical, social, cognitive, emotional, and environmental benefits of the animal-assisted activity.
"The takeaway is to show students a legal and more healthy way to relieve stress than some of the ways they currently relief stress like doing drugs, drinking alcohol, and stress eating," Smyrk said.
The outcome was wonderful. "Everyone seemed pretty calm and happy," Navarrete added. We hope to see this opportunity grow and continue to inspire students to make time for mental health.

Hits : 1404
About the Writers
Jessica Cruz, Editor-in-Chief
Jessica Cruz is a senior at Watkins Mill High school and is one of the Editors in Chief of the Current. Jessica has been playing softball and running track...
Bianca Johnson, Associate Editor
Bianca Johnson has been on the newspaper staff since Junior year and is an Associate Editor for The Current. She plans on traveling around the world and...