Football defeats Seneca Valley for first time in school's history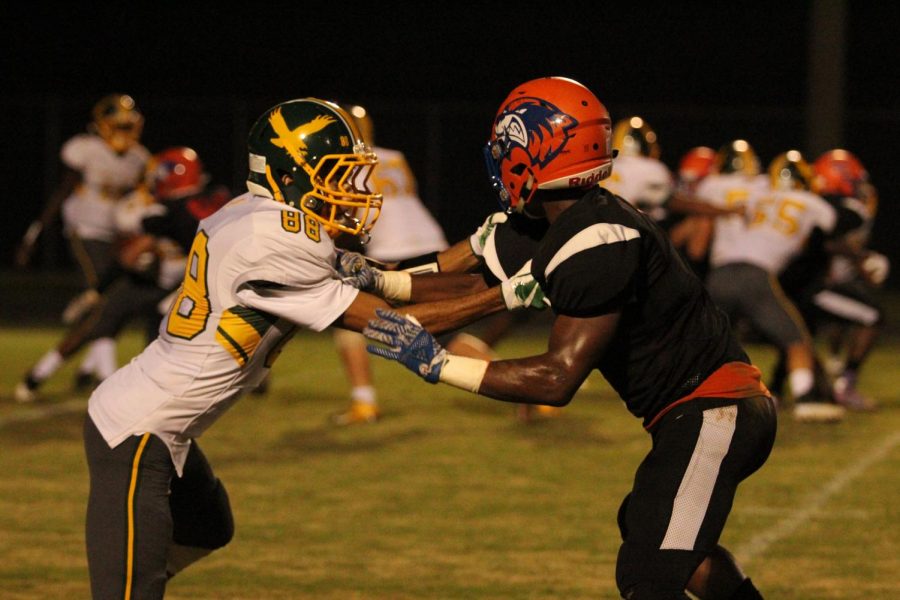 Wolverine football defeated Seneca Valley High School on Friday, September 21 with a decisive 32-12 victory. In this historic game, the Wolverines beat the Screamin' Eagles for the first time since the school opened in 1989.
Senior Lucas Elenga said this team will "never back down." Elenga had a phenomenal game passing 163 yards and rushing 56.
Elenga scored the opening one-yard rushing touchdown in the second quarter and junior David Okoli scored a 44-yard receiving touchdown to bring the score to 14-0, followed by an eight-yard rushing touchdown from Elenga. After that, junior Demetrius Rush scored a touchdown third quarter, 46-yard touchdown reception and a fourth quarter 21-yard reception touchdown, adding to the score and making it 32-12.
"I feel like the team played great," senior Luis Chavez said. "There is always room for improvement but we're working hard."
"We just executed our game plan," coach Maxwell Bero said. "The stats weren't crazy, but we did what we had to do in all phases of the game."
Senior Anthony Rush, who lead the 'Rines in rushing yards with 85 yards, said, "I think we were the better team, the focus in our practices is something we [didn't] have last year. The defense stepped up to a higher level than before and everyone was on the same page."
Demetrius Rush led the 'Rines in receiving yards, receptions and touchdowns with four receptions for 82 yards and two touchdowns.
"I feel like I had a pretty good game, but I could've played better," Demetrius Rush added. "The team stepped up, especially the [offensive] line. The [defensive] line also came in big."
Come join the 'Rines against Rockville High School this Friday September 28 at 6:30 pm for the Homecoming game. Go 'Rines!

Hits : 1168