Ralph Yarl, armed only with 'Black skin,' was shot twice for ringing the wrong doorbell
On April 13, 2023, Ralph Yarl, a 16-year-old Black teenage boy was shot for knocking on the wrong door. His mom had asked him to go pick up his siblings from an address, but unsure of where it was, he inadvertently rang the wrong doorbell.
Eight-four year old Andrew Lester opened the door. He was not curious about why the young man was there, he did not ask any questions. Instead, according to Yarl, he said, "Don't come back around here again," before immediately shooting him in the head, cracking his skull.
When Yarl's 16-year-old, 5-foot-8, 140-pound body hit the floor, Lester opened fire shooting him again, this time in his arm. 
While fleeing for his life, Yarl had to go to three different houses asking for help. Before receiving help he was told to lay on the ground with his hands behind his back. Although he was horribly wounded, the color of his skin alone still posed a threat.
Yarl suffered a traumatic brain injury, which he is still recovering from. Luckily, according to his doctor, Yarl is expected to make a full recovery, but it will take some time. He is currently working with a trauma-informed psychologist and therapist to begin to process what happened to him.
All of this happened because Yarl went to 115th Street rather than 115th Terrace, a common mistake that kids and adults make all the time. 
This is the reality for Black boys in America, minute mistakes such as ringing the wrong door-bell, or even just driving, can be life threatening. 
Lester claimed that it was the last thing he wanted to do, but he was "scared to death" due to the male's size. Yarl was three inches taller than me and weighed only 140 pounds.   
This is not an issue of an old man fearing for his life, it is an issue of racism. 
Lester's own grandson came forward and claimed that he "wasn't shocked," by the news. He claimed that his grandfather held "racist tendencies and beliefs."
Yet there are still people out there claiming that this incident had nothing to do with the boy's race, and that such a tragedy could have happened to anyone. But the truth is, it happened to Yarl.
He was a victim like 17-year-old Jordan Davis, who was shot and killed at a gas station by a 45-year-old white man because his music was too loud.
Or 25-year-old Ahmaud Arbery, who was chased and murdered by a white resident of a South Georgia neighborhood while he was on a jog.
Or 26-year-old accountant Botham Jean, who was murdered in his apartment because a white woman thought it was hers.
This is America. A country that allows the extension of the racial legacy that states like Missouri and Florida have refused to address by banning books and limiting conversations.
This is America. A country focused more on protecting the right to own guns than a child's right to live.
This is America. A country so racially violent that blackness still renders simple everyday tasks as life threatening such as taking a jog, sitting at home, being in your own vehicle, or ringing a doorbell.
For Ralph Yarl and for every other Black person who has ever fit the description, been targeted, violently harmed or murdered for existing in a skin known to elicit white fear and white violence in America. Black lives still matter even if it is not a trending hashtag on your social media feed.
Justice is demanded, because without justice there is no peace.
Hits : 189
Leave a Comment
About the Writer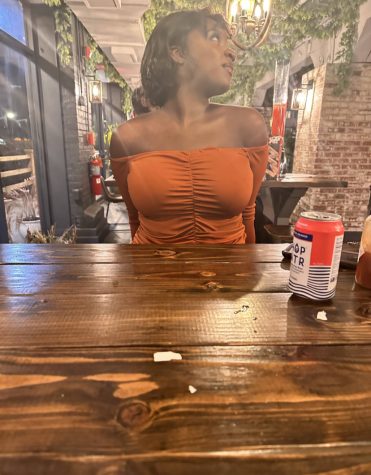 Sarah Bamba, Staff Writer
Sarah Bamba is a senior at Watkins Mill and a Staff Writer on The Current. She is an International Baccalaureate Diploma student, and plans to the University...