Don't you hate that when it's summer, you long for the winter, but when winter comes, you shiver in agony wishing it were summer?
Now is the perfect time to discuss what's better, hot or cold. Statistically, as a Marylander, you're more inclined to prefer heat! Check out this chart I totally didn't steal from PewResearchCenter: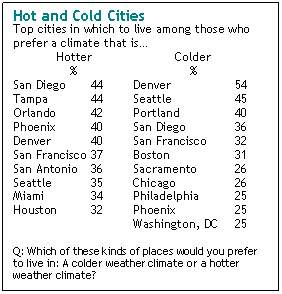 This graph proves how chaotic the discussion is. How can only 25% of people living in Phoenix (which is the closest temperature to hell that you can experience on earth) prefer cold? Only 25% of people prefer cold in DC, meaning 75% of people in the DC area prefer heat! If you still aren't seeing the pattern, generally, WEATHER (pun intended) or not, you live in a cold climate or warm climate…YOU'RE MORE LIKELY TO LOVE HEAT!
As a fellow cold lover, this hurts to admit, but heat is better than cold.  I mean, it makes sense that some of the most ancient human civilizations originated in hot climates. I wonder if Cleopatra preferred the heat over the cold. This opens a wormhole of questions!

Did Jesus prefer sleeping with the fan on at night, or did he plug in the space heater?
Did he microwave the milk before pouring it into the cereal? Was he a fan of cold sandwiches? When he turned water into wine, was it red (served warm) or white (served cold)? 
Although we'll never know the answer to these questions, I think it's fair to say that Jesus probably preferred heat in certain instances and cold in others.

This idea still applies to this day. I'm sure all the filthy heat lovers don't prefer heat when the AC's broken. As much as we cold lovers love the snow and popsicles, we HATE cold soup! 
It's very difficult to fit our preferences into strict binaries. I'm sure if Pew Research were to do the survey again but allow the participants to give more than 1-word response, we would get an array of results.
So, in conclusion, is cold better than hot? (yes) It's very circumstance-based, but generally, humans lean towards heat. You're wrong, but that's okay.
(Editor's note: The Current does not condone blasphemy–by which we mean saying that cold is better than hot, which is clearly a reflection of the author and no one else.)
Hits : 297