'Go ouuuut tonight' to see O'Shea players perform Rent: School Edition
The O'Shea Players, Watkins Mill's theater group, have a new musical, Rent: School Edition, to perform for the community. Rent is bound to move the audience with its emotional message and its themes of friendship, love, and the fight against those who oppress the power of the people.
The first showing of Rent: School Edition took place last week on Friday, May 5, and Saturday, May 6 at the Timothy O'Shea Theater, but the play will continue to run on Friday, May 12 and Saturday, May 13 at 7 pm for free for everyone to attend.
"Though everyone is welcome, we do recommend those under 12 have an adult over 18 with them. All showings are free to attend, including students and their families," senior and O'Shea player Nathan Campbell said.
Nathan Campbell plays Roger Davis, one of the eight characters in the story. Rent: School Edition is a rock musical that concentrates on the lives of artists and a group of friends that fight against adversity, poverty, and suppression of their true identities. The characters in this play consist of eight people who are struggling to survive in New York City with the looming threat of HIV and AIDS.
"This show was chosen because it's a story we felt was largely ignored in the world we live in now, and feel as though its innate connection to the idea of self-expression is one students need to hear in a time where so many of us can feel shut away from who we truly are," Campbell added. 
The show was organized by the O'Shea Players' director, traveling artist, actor, and Watkins Mill alumni Bubblezz Mercel, while English teacher Jamaly Allen served as producer.
"She felt very strongly about the message of the show and despite the hard score and sensitive topics, [Mercel] believed our actors were prepared to convey the story onstage," Campbell stated. 
The O'Shea Players held a spirit week on the week leading up to the show, ranging from pajama day and rockstar day to dress to impress.
Here's a brief run-through of the characters to see at the show:
Mark Cohen: the nervous, yet self-driven videographer making a film based on the events he documents during the show.

Roger Davis: a weary and anxious rock musician struggling to find meaning in his life and writes a final song before his inevitable death from AIDS.

Mimi Marquez: a lively and optimistic exotic dancer with a dark past. 

Tom Collins: the passionate yet empty college professor who finds life through love. 

Alexi Darling: the woman holding Mark to an unfair contract for money. 

Angel Dumott-Schunard: the extravagant and talented drag queen and street drummer falls in love with Collins through finding solace in one another while coping with AIDS. 

Maureen Johnson: the quirky and slightly problematic underground performer who fights for the rights of the homeless being kicked out of the 11th Street Lot. 

Joanne Jefferson: the headstrong young lawyer who holds a stark yet entertaining contrast to her girlfriend, Maureen. 

Benjamin Coffin III: the extremely cocky and cool landlord of his once-roommates Mark and Roger, which he uses to manipulate characters throughout the show. 
"I was a little nervous at first, but remained optimistic because I know that despite the difficulty of the show, our actors are talented and remain dedicated to telling stories much like this one to our community," Campbell said.  "Given our circumstances, I feel we've done great so far, and will only get better for our closing weekend."
"The play was good. It was entertaining. It's free, donations are welcome," English teacher Joye Saxon said.
"I want people to come [to see Rent] with an open mind to the topics discussed and be willing to hold conversations with one another. More than anything, I trust that live theater is one of the most effective methods of sparking change in a community," Campbell said.
Hits : 800
Leave a Comment
About the Writer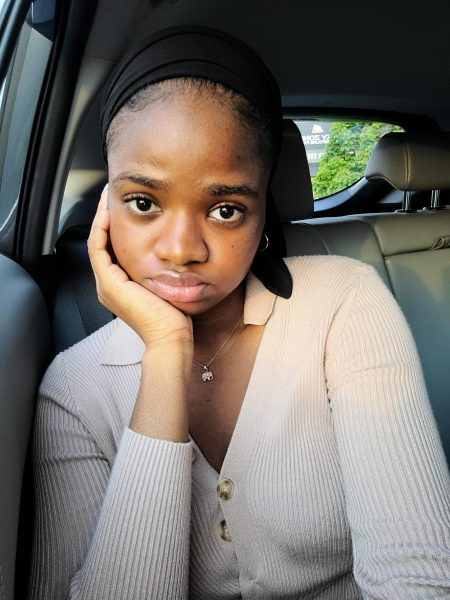 Huswat Olajide, Editor-in-Chief
Huswat is an IB Career program senior at Watkins Mill High School and Co-Editor-in-Chief for The Current. She is the president of the Minority Scholars...