Students don't throw away their shot to see Hamilton through grant opportunity
How does a ragtag group of students from Watkins Mill High School, soon to be college-bound, somehow see the hottest play around? 
In 2018, non-profit organization Gilder Lehrman Institute of American History partnered with the makers of Hamilton: An American Musical to create The Hamilton Education Program: a curriculum that allows students from Title 1 eligible high schools to be immersed in American history.
Additionally, kids are given a shot to perform an original musical piece on the same stage where Hamilton is performed. Watkins Mill High School is considered to be a Title 1 eligible school as nearly 60 percent of the students qualify for Free and Reduced Meals. 
Ten student acts, coming from multiple states, including Watkins Mill junior Vivian Ingram, "raised their glass to freedom" and paid tribute to the musical through song and poetry in front of a 2,400 member audience. Ingram sang an original song called "Au Revoir America," inspired by "Cabinet Battle #2," a rap battle in Hamilton between Secretary of State Thomas Jefferson and Secretary of the Treasury Alexander Hamilton regarding whether America should send aid to France in their fight against tyranny.  
After the students performed, Hamilton cast members John Deveraux, Jennifer Geller, Krystal Mackie, and Music Associate Noah Landis took to the stage to spill age-old secrets, talk about their favorite musical numbers to perform, and to encourage aspiring performers. 
"Keep going," Geller said. "Keep going, [and] keep pushing through, [because] it's worth it. If you're truly passionate about it, keep going, keep training, stay hungry, and constantly keep feeding yourself the fruits of this industry. Things will happen for you in return."
Geller also insisted on being kind, regardless of the industry. "I have gone to high school with people who are now casting directors, so it's very important to just constantly stay kind," Geller added. 
"You have to be ok with not knowing where the next [job opportunity] comes from. But [if you are] constantly hustling, making the connections that you need to make, getting your name out there, and being okay with not knowing, [it] can be very exciting [to put] that kind of life together. It's very rewarding," Landis said. 
"You are only in control of what you do. Don't try to be anybody else," Devereaux added. "If you can truly look at yourself in the mirror and say, 'I did everything I could,' things are going to work out quickly. You have to look at yourself in the mirror and [ask], 'Am I doing everything I possibly can to be the best I can be today?'"
Act one of the musical follows Hamilton's journey from the "young, scrappy, and hungry" island of Nevis to America, which at the time was a nation on the brink of war. Hamilton acts as an aide-de-camp, writing at the right hand of General George Washington, future first President of the United States. The first act featured immigrants such as French military officer Marquis de Lafayette and Irish-American spy Hercules Mulligan, reminding the audience that America was built by immigrants because "they got the job done."  
"My favorite song would be 'Wait For It,' sung by [former Vice President] Aaron Burr, because it's a really emotional part of the first act," senior Kelly Mok said. "It seems to be one of the only problems that Burr faces in the first act. It's [one of] the only emotional parts of the first act, unlike the second act where it's mostly focused on emotion. It steers away from the politics of the first act and shows you a little bit more."
Act two begins with a classic Broadway-themed number starring Jefferson, but there were moments where the words didn't reach in this next harrowing stage of Hamilton's life. Burr led the audience through Hamilton's affair with mistress Maria Reynolds, resulting in the estrangement of his wife Eliza Hamilton, the deaths of his son Philip Hamilton and friend and statesman John Laurens, ending with his downward spiraling friendship with Burr, which led to his inevitable death.
"[My favorite song(s) from act two] would be [both of the] cabinet battle raps. I was really happy to hear it because those were really funny," sophomore Bidushi Lakhemaru said. In "Cabinet Battle #1," the rap debated whether the founders would establish a national bank and assume state debts. "Cabinet Battle #2" showcased a debate between Hamilton and Jefferson, bringing laughs and ridicule while exposing Jefferson for his pious living.  
"The lighting was my favorite technical aspect," sophomore Mauro Gonzalez said. "You can have a basic set, but lighting can really make the scene. With the lighting, it really made it look like you're watching a movie. It didn't feel like you were actually there in person watching it." 
"Just getting to see professional actors [perform] was so cool. I think it [was] very inspirational to a lot of people since right before [the performance] we got to see student performances," Gonzalez added. "[It] just shows what you can do [in the arts]. There [are] so many options. It's very inspirational since you really get to see a project of passion put onto the stage." 
Mixing R&B, hip-hop, and musical theatre stylings, Hamilton: An American Musical shouldered Hamilton's legacy with pride. And when the students of Watkins Mill tell Hamilton's story, they will continue to tell the story of tonight.
Hits : 1816
About the Contributor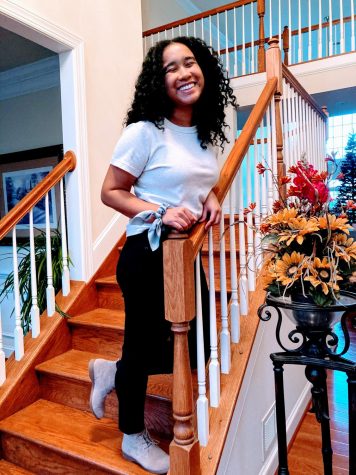 Grace Edwards, Editor-in-Chief
Grace Edwards is a senior at Watkins Mill High School and Co-Editor-in-Chief for The Current. She is a straight-A student who enjoys playing her violin....