Voter apathy haunts last-minute voters–but there's still time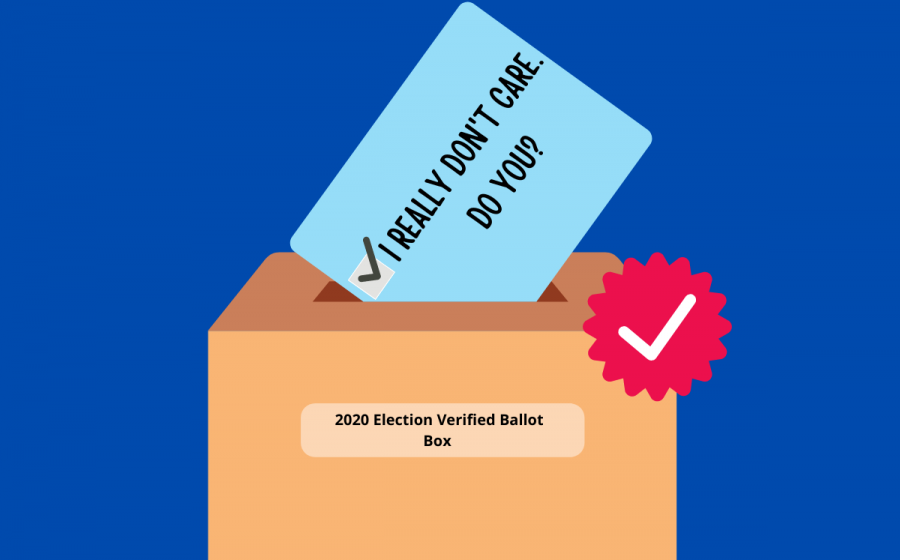 "When you got skin in the game, you stay in the game. But you don't get a win, unless you're playing the game." —Hamilton, lyrics by Lin-Manuel Miranda 
After two Supreme Court confirmations, a government shutdown, an impeachment hearing, continued racial divides, a pandemic with over 9.25 million ill and 231,000 dead U.S. citizens— we've seen the fall of President Donald Trump, and the repercussions of not voting in the 2016 election.
However, we've also seen strides in the 2018 Midterm election when people—young people especially—voted. Now more than ever, we see desired outcomes as a direct result of voting. Yet, many young people refuse to vote or register to vote. 
"You must find a way to get in the way. You must find a way to get in trouble, good trouble, necessary trouble. Use your education," former Civil Rights Leader and Representative John Lewis once said. "Use what you have, use your learning, use your tools to help make our country and make our world a better place where no one will be left behind."
 "I hear too many people say, 'I'm not going to participate. That's not my cause, that's not…' We have to participate," Lewis added. "You can do it and you must do it. It is your time." 
Not to diminish the government's role in systemic racism, but too often we forget that this same government that was capable of legal segregation, slavery, and xenophobic policy, is also capable of great good. Despite the original intention to represent "the white man," the reality is "We the people" includes your Black-American neighbor, someone's abuela, and another's tito. In recent years, we've only seen how government and politics do not work for young people, and we forget the historical success of representative government.
Despite emerging resentfulness of politics, democracy works. "We are moving toward more inclusivity, more openness, more we-ness," former First Lady of the United States Michelle Obama said in a podcast. "It's not an easy trajectory— it is bumpy and it is uncomfortable. And that is how change happens. It's not just one continuous arc. It's cyclical." 
Prime examples include recent protesting in honor of Breonna Taylor and George Floyd, which resulted in Breonna's Law and a Second Degree murder charge and manslaughter for the police officer who killed Floyd. I recognize that both Taylor's and Floyd's killers have since been released, but there is still hope. Just recently, grand jurors from Taylor's case have anonymously spoken out against the trial's proceedings, which may bring new charges. We have to "fight for the things that [we] care about, but do it in a way that will lead others to join [us]," as the late Associate Justice Ruth Bader Ginsburg said. We have to have the audacity to hope.
I cannot vote in this year's election, like many other high school students. Even so, I acknowledge the fear associated with the huge responsibility of taking over the country from the previous generation, and molding it into something new. It's scary knowing how much power you hold in one vote. It's easy to hide from the world and the responsibilities that you might hold when you turn 18. But once the clock strikes midnight and you've turned 18, you will be held responsible for your inaction and passivity. 
Some might be rightfully concerned about voter suppression. Yet, this is not new. In the Presidential election of 1964, Martin Luther King Jr. spoke out against voter suppression as espoused by Barry Goldwater and his brand of conservatism. This "brand" has taken us down the path of Richard Nixon and Ronald Reagan, epitomizing all of the un-American practices and policies which continue to haunt us to this day. President Trump is an embodiment and intensification of such policies.
I have seen the palpable disappointment and despondency of the election of Donald Trump in 2016, but I've also seen the roaring cheers for Alexandria Ocasio-Cortez in New York in the 2018 midterm elections. Our generation is growing up to the sound of progress, and it first started when we witnessed our first African-American President. Yet, the cacophony of gridlock, ignorance, and partisanship overwhelm the national stereo. 
It seems as though we only emphasize the importance of voting when our lives and the virtues of "being American" depend on it. Or people don't vote because they believe that their state would automatically lean toward a particular party affiliation. The sad reality is that most things depend on the local governments. We need to be involved with all current and future elections, big and small.
By the time of this publication, early voting is closed in Maryland. While every state has their own special voting directives, Maryland stipulates that mail-in absentee ballots should be postmarked by November 3rd, and received no later than November 13 at 10 am. Regardless, the US Post Office may not guarantee the safe and prompt arrival of your vote. The best option is to return your ballot to the polling place drop-off box. If you're not afraid to vote in-person, it's not too late to visit your local polling place. 
And, even if you are not registered to vote, in Maryland it's not too late. Go to any polling place in the county where you live with proof of residency and you will be able to register while the polls are open today.
Halloween may have passed, but do you know what's scarier than ghosts and zombies? Not having your voice heard. If this column wasn't sufficient in convincing you to vote, here's a video of Tony Award Winning Daveed Diggs and The Root's Tariq "Black Thought"  Trotter rapping about the election. Go out and vote.

Hits : 373
About the Contributor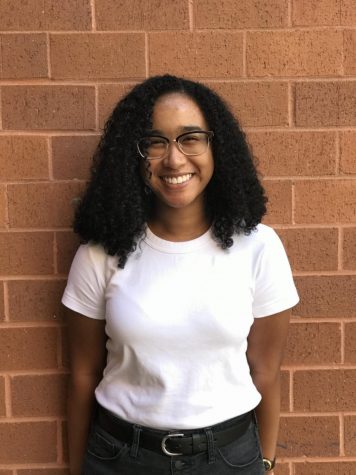 Grace Edwards, Editor-in-Chief
Grace Edwards is a senior at Watkins Mill High School and Co-Editor-in-Chief for The Current. She is a straight-A student who enjoys playing her violin....