Why the United States Election results may be delayed in 2020
COVID-19 has changed everyone's life, which puts the US presidential election at stake. Americans have become accustomed to physically voting in polling centers, but now, even going to your nearest polling center can be a compromising experience to some. 
Both mail-in and absentee ballots are sent through the mail, but there are differences. Absentee ballots are requested by people who aren't able to vote in person with a valid reason. Mail-in ballots are already given to eligible voters who live in states with all-mail voting systems, thanks to federalism.
The delivery of mail-in ballots and absentee ballots consist of three major stages: completely filled ballots are sent back to your local election office. Once the mail-in ballots arrive, election officials will proceed to inspect and assure the authenticity of the ballots and count the ballots. This can surely provoke uncertainty with such a close election, but keep in mind that mail-in ballots are in higher demand because of Coronavirus.
Looking back at history, soldiers have voted through the mail during the Civil War and World War II. In  times of war, they obviously weren't able to vote in person, but it goes to show how important voting is to the US government. "We cannot have free government without elections," President Abraham Lincoln told a crowd outside the White House in 1864.
With a higher demand for mail-in ballots, the more time election officials will take to assure the most accurate outcome. The outcome of the presidential election might not even come within one day, but possibly weeks. Rest assured that mail-in ballots will benefit people who would have skipped voting because of the possible risk factor or any other reason.
Everyone's situation is very distinct and our Founding Fathers certainly knew that. According to the US Constitution Article 1, Section 4, it's up to each state to determine "times, places and manner of holding elections." This open-ended assertion has allowed the voting process to be molded to its perfect shape with the country's needs.
If you or someone you know is interested in voting, Maryland allows early voting from October 30 – November 2. If you, for whatever reason weren't able to vote by mail, voting in person can still be an option. Don't be discouraged, this only happens every four years, and it's the responsibility of Americans to voice their vote during such a pernicious time period.
Polling centers have to follow the Center Of Disease Control and Prevention guidelines to ensure the safety of voters, find your local polling center, and personally followed the CDC guidelines to keep you and others safe. Go vote!
Due to COVID-19, in-person services may have limited availability. Contact your local election office to confirm. See CDC guidance on safe in-person voting.

Hits : 351
About the Contributor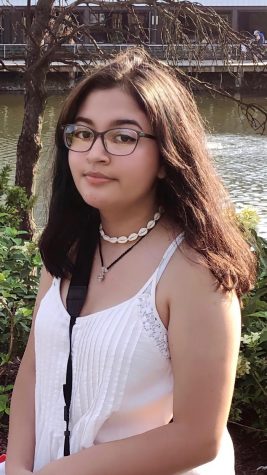 Isabella Luna, Features Managing Editor
Isabella Luna is a junior at Watkins Mill High School and a Features Managing Editor for The Current. She is a part of ACES and Social Awareness Group....