High school athletes grow up to compete in classroom as teachers
We all know which teachers are ballers in the classroom, but some teachers were ballers on the court back in their day as well.
Engineering teacher Edward Graf attended Notre Dame High School in Bethlehem, Pennsylvania. Graf played basketball and ran cross country and track and field. He played on the varsity basketball team starting his sophomore year. He sustained multiple injuries, such as tearing his meniscus (cartilage between the surface of the knee), and rupturing his ankle.
Both of these injuries were from playing basketball. He also sustained a long-term injury from the triple jump. As injury prone as he was, he was a great and competitive athlete. His teammates named him "Silent Fury," and the announcer at his games named him "Steady Eddy" on the court.
Math teacher Sarah Bailey was on the poms team at Paint Branch High School in Burtonsville, MD during her junior and senior year. She had a lot of fun doing it and she is happy she did it because now she is the assistant coach for the poms team here, at Watkins Mill High School.
English teacher Chris Smith played soccer for Bowling Green High School in Kentucky. He played three years of varsity and won one regional title. Although he scored no goals, he made an impact when he was on the field. He described his experience as "amazing and positive."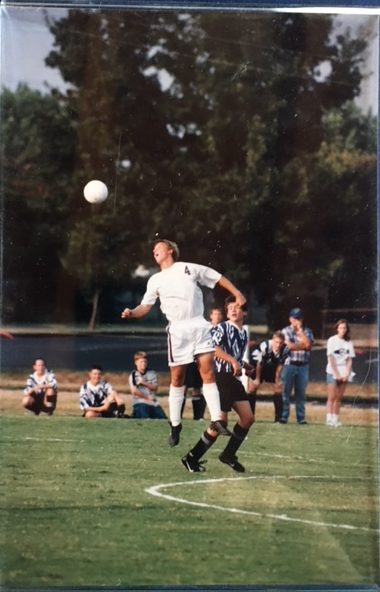 "I loved [playing soccer]," Smith said. "I made a lot of friends from playing. Our ambition was just to win the state title but I'm still glad to have beaten our bitter rivals and won the Regional Championship." Soccer is Smith's "favorite sport to play and watch" that's why he decided to coach the Watkins Mill junior varsity girls soccer team.
These teachers went through a lot but still pulled through with their education and sports. This is a lesson to all students that you can still be successful in school and in life while playing sports. Trying new and different sports is helpful in many ways as you can earn scholarships for college, but you can also meet new people that you otherwise would never even see or speak to.
"You develop friendship, brotherhood or even sisterhood depending on the sport you play. Playing a sport is good for your personal health. The desire to play will always be there if you enjoy that sport," Smith added.
Hits : 2604