Football blazes out in season opener, looks to battle Colonels tonight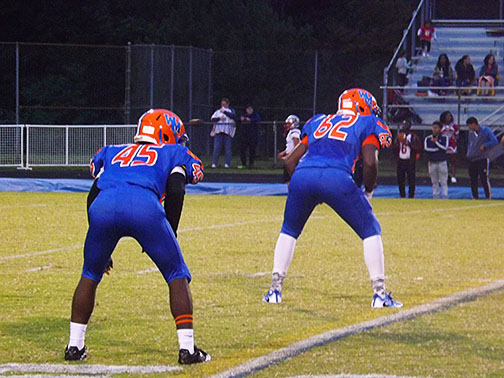 Watkins Mill football looks to conquer the Magruder Colonels tonight, at 6:30pm. The team is coming off a tough loss to open up the season but looks to rebound today.
The team put together a hard-fought battle against one of the top teams in the county, the Montgomery Blair Blazers. Blair is coming off of an 8-2 season last year, and the 'Rines were able to stay competitive with the Blazers all the way through the first half, finishing down by a score of 13-10 at halftime.
"We got the jump on them first by shutting them out on the first drive and then we were able to score," junior Spencer Neil said. "It was close, but we limited our mistakes throughout the whole first half."
'Rines football wasn't able to hold on in the second half, losing their grip on the Blazers. The team was only able to put up six points in the whole second half, almost half of what they scored in the first.
"In the second half our [quarterback] went down and we lost focus. We weren't able to stop the run and made many mental mistakes," senior Salekri Sayeh said.
Despite the loss, Orange Nation really showed out for the team's home opener. Science teacher and "Orange Nation Guy" Matt Johnson added, "Considering that [the game] was before school even started, I think we had a pretty good turnout of kids."
"We're definitely going to keep working on promoting all of our teams and getting people out to big games," Johnson said.
Varsity football didn't let this first loss faze them; they've been spending all week working and perfecting everything that went wrong in the Blair game.  "We worked on stopping outside runs, and also practiced more with our back-up [quarterback] just in case," Sayeh added.
Look for the team to come back strong tonight, as they look to take down the Colonels at 6:30pm at Magruder.

Hits : 636