Greece proves to be excellent location for WMHS spring break trip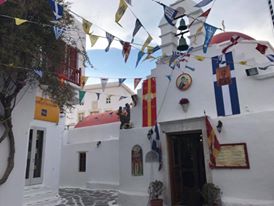 This year's international spring break trip gave students the opportunity to visit a new and foreign place. The spring of 2017 gave students the opportunity to explore Greece and Grecian culture.
34 students and seven adults attended this year's spring break trip. "[The trip is] not academic in the sense that there are assignments or credits, but it's a learning experience… It's a learning environment," trip sponsor Thomas Sneddon said.
"It's an educational tour so when we arrive, we do get the history behind ancient Greece and… it's also a cultural experience. They eat the food, they experience the culture… they get to go around and experience the language… so it's both educational, fun, and cultural at the same time," social studies teacher Lauren Squier said.
"My favorite place was Mykonos because it was so pretty. Everything was white and cobblestone. It's basically what you picture Greece to be like…blue water, white buildings and everything like that," junior Jennifer Porras said, "I learned a lot about the Greek Gods and their temples."
"One thing I think is underrated about Greece is how friendly the people are," Sneddon added. "This year we went to a new island, Samos… and when the people of the island of this one town… found out we were coming, they organized a party for us on the dock. They had folk dancers and gifts for everybody."
"The traveling was a mess. First off, we got to Dulles [International Airport] and there was a fox on the runway…so the fox delayed us for an hour and a half," senior Nathan Wright said. "[When we finally get to Greece] half of our luggage [wasn't] there." But despite the trouble the experience in Greece was worthwhile. 
Junior Katherine Campbell shared that her favorite part about the trip was "just being with [her] best friends,… seeing the pretty views with them and experiencing it with them." Campbell, along with every other trip attendee, added that the gyros were the best food and recommended giving them a try.

Hits : 912