MPSSAA responds to calls for rule change, grants exception for student athletes to wear religious garments in games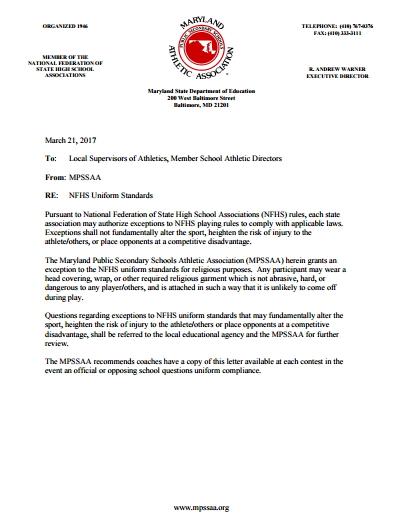 Maryland Public Secondary Schools Athletic Association (MPSSAA) granted an exception to the National Federation of State High School Associations (NFHS) uniform standards on March 21, allowing students to wear religious garments of all kinds.
After junior Je'Nan Hayes was restricted from playing in the girls basketball 3A South Regional Final game due to her wearing a hijab media outlets, like the Washington Post, CNN, and Fox News, picked the story up. Hayes and her family teamed up with the Council on American-Islamic Relations (CAIR) and held a press conference to try to change the rule.
"[I was] ecstatic,…surprised, [and] glad that it happened in such short time. This is a big step towards change," Hayes said. "I was really surprised, I thought it was going to take effect immediately next year, but it was in the same month that this all happened…I'm really surprised and honored that this happened so quickly."
According to the letter from MPSSAA students may wear "a head covering, wrap, or other required religious garment which is not abrasive, hard, or dangerous to any players/others, and is attached in such a way that it is unlikely to come off during play." Prior to this letter Montgomery County Public Schools also asked the state for a rule change.
"I was troubled that this young girl would be prevented from participating in basketball at the same time practicing her religion," MCPS board member Patricia O'Neill said according to mymcmedia.org. O'Neill led the effort of writing the letter asking for a change to the state. "It made me very sad and troubled by the intensity in the situation," O'Neill added.
"From this being changed I hope that people understand that Muslims can be involved in sports and…[are] involved in sports. [Also] that we aren't oppressed," Hayes added. "I hope the people can get some kind of enlightenment…and realize that we're not doing it in a way to be better, [but] just to show our self worth and represent our religion or community as a whole."
Hayes plans to use her story to help inspire others to "achieve their goals of becoming an athlete," and to show that "you can do anything you want to do. Muslim girls, boys, Jewish boys…can do anything they want to just. So you try and see what you can do," Hayes said.    
Hits : 1998