Remembering Sarah Hegazi and her impact on LGBTQ+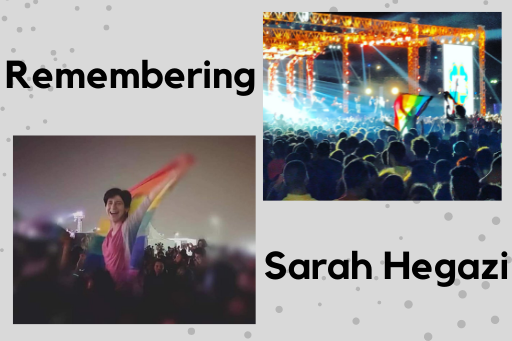 As we are in the month of June, it is important to recognize Pride Month and those who fought for LGBTQ+. Those who fought to see the powerless rise against authority, only to be betrayed, such as Sarah Hegazi.
Sarah Hegazi was a socialist, writer, and lesbian activist from Egypt. On June 14, 2020, she passed away due to suicide, and this June. Hegazi gave many LGBTQ+ people from or living in the Middle East hope, and fought against any system that took advantage of the powerless.
In September 2017 during a concert in Cairo, Egypt, Hegazi, along with friends, lifted a rainbow flag, which is often associated with LGBTQ+ rights. In a country where, ¨Islamists and the state compete in extremism, ignorance and hate, just as they do in violence and harm,¨ raising the rainbow flag was a big deal.  In many conservative countries other than Egypt, LGBTQ+ is seen as a taboo, and there are many negative stereotypes that further those beliefs. So, for Hegazi to do this, she was not only praised for breaking barriers for LGBTQ+, but also condemned by many.
Days after holding the flag up, Hegazi was detained for inciting debauchery and spent three months at a detention center, where she was tortured. After being released on bail and finding out that she had been fired from her job, and rejected by family members and neighbors, Hegazi fled to Canada and sought political asylum, which she was granted.
In Canada, Hegazi continued her activism, and often wrote articles about her beliefs and opinions. But she still faced severe depression, anxiety, and had post traumatic stress disorder, all from what she had experienced in Egypt. After seeking electroconvulsive therapy to help with her mental issues, she suffered from memory loss and developed a stutter.
Throughout her life, Hegazi fought for those without a voice, and fought against those who took advantage of marginalized groups, only to not have it reciprocated, and be condemned to a point where she had to spend the rest of her life in exile. 
While she sparked a flame in LGBTQ+ in not only Egypt, but throughout the Middle East, her fight was not returned. In the note of her suicide, Hegazi wrote, ¨To the world, you were cruel to a great extent, but I forgive.¨ In not only June, but other months, recognizing the efforts of those who fought for LGBTQ+ is principle. Hegazi, along with others, deserve to be acknowledged for all that they have done.
Hits : 745
Leave a Comment
About the Contributor
Mina Graham, Associate Editor
 Mina Graham is a Senior at Watkins Mill High School. She is part of NHS, ACES, the Social Awareness Group (SAG), and plays varsity tennis. She has plans...