Serial killers still lurking today- in case a 2020 Friday the 13th isn't scary enough
When you hear serial killer, you might imagine Ted Bundy, John Wayne Gacy, or Jeffrey Dahmer, a few famous serial killers from the past century. Perhaps the most famous serial killer of all was nicknamed Jack the Ripper who killed prostitutes from the Whitechapel district of London, England in 1888. Though several suspects were arrested and tried for the crimes, he was never caught.
Disclaimer: if you are not comfortable with reading about traumatic events such as murder and abduction, please do not read the rest of the article!
The magic number that defines a murderer as a serial killer is three. That means each of these killers were found to have the same M.O. (Modus Operandi), signature, and/or victimology for at least three murders. At any time, there are approximately 25-30 serial killers active in the United States alone searching for their next potential target. Here is a sample of some disturbing cases from the past few decades that have not been solved to this day.
The Long Island Serial Killer
This New York killer was active from 1996 to 2010, killing and scattering bodies of eight prostitutes along Gilgo Beach and Manorville, Long Island. Their remains were found along with those of a toddler's and a cross-dressed male's while local police were searching for a missing prostitute from New Jersey. A movie on Netflix titled Lost Girls explains the story of Shannan Gilbert who was missing for almost two years before her remains were found and her family got closure. However, this mystery killer has not been found and his identity remains hidden. Several suspects were apprehended but no ties were found to the crimes. There are theories of him having a law enforcement background, which might explain how he was able to elude capture for so long.
One of Shannan's sisters, Sarra Gilbert, suffered from schizophrenia and was in and out of psychiatric hospitals starting in 2014. In February 2016, Sarra was arrested and charged with child endangerment and animal cruelty. She was reported to have drowned a puppy in front of her eight-year-old son before threatening to kill him and his father. She had a violent psychotic break in July of that same year in which she invited her mother over to her apartment complaining she was hearing voices, and then proceeded to stab her 227 times. Sarra is now serving the maximum sentence of 25 years to life in state prison.
The Jefferson Davis 8
The bodies of eight women ages 17-30 were discovered in the swamps of Jefferson Davis Parish in Jennings, Louisiana from 2005 to 2009. Several of the victims knew each other, two were cousins, and some assisted in the investigations of the other victims before their own murders. A series titled Murder in the Bayou from Showtime was released in 2019 to ensure that these women would never be forgotten. Like the Long Island Serial Killer, the suspect is presumed to have a background in law enforcement. Suspicions of police misconduct and negligence from both police departments have left families from Long Island and Jeff Davis fighting for justice and truth.
The Smiley Face Murders
In 11 different states of the United States, 45 male college students were found and classified as "accidental drownings" in large bodies of water. Detectives believe they were abducted, drugged with sedatives, held for long periods of time, tortured, murdered, and then disposed of in water by a team of serial killers over a period of two decades. Authorities connected them due to the similarity in signature and victimology. Detectives and crime scene investigators reported graffiti of smiling faces near at least 22 of the crime scenes, dubbing them the Smiley Face Killers. All of the victims were young, male, white, athletic, successful, and well-liked. Whether or not all of the deaths are connected, nobody can explain the coincidence of the smiley faces.
Monster of the Andes
In the early 1970s, Pedro Lopez from Columbia raped and murdered young females across South America. In 1980, he was arrested after a failed abduction in Peru and told detectives that he was captured and sentenced for execution by a native tribe for one of his murders. He confessed to killing "about three girls" a week for two years, raising his total number of victims to well over 300 and led the police to a mass grave with the remains of 53 victims. Despite having one of the largest known body counts in history, Lopez was set free from prison in 1994 to a mental home where he was again set free in 1997. Lopez was suspected of another murder in 2002, but authorities have not been able to trace him since 1998.
West Mesa Bone Collector
In February of 2009 on a mesa near Albuquerque, New Mexico, the remains of eleven female sex workers ranging in ages 15-32 were found in the same area of land. Most of the women were of Mexican descent and one was pregnant when she was murdered. While the case is still open today, authorities have two main suspects, though one of them is dead while the other is incarcerated for an unrelated charge. A few miles from the mesa, Lorenzo Montoya was killed in his home in 2006 by a sex worker that police believed was his next victim. A known rapist and sex offender in the area named Joseph Blea was also suspected though police found no definite ties to him or the crimes. He was arrested for theft of women's underwear and jewelry and is currently in prison.
Peter Manfredonia
UConn student Peter Manfredonia was caught and taken into custody 9 p.m. on Wednesday, May 27 in Hagerstown, Maryland after a six-day manhunt. His two victims were a 62-year-old male whom he killed using a machete and a 23-year-old friend from high school whose girlfriend he abducted but later left at a rest stop in New Jersey. Sightings led local and federal authorities including the FBI to Manfredonia's location in Hagerstown to which he took an Uber from Chambersburg, Pennsylvania. The families of the victims were relieved and appreciative of the authorities for bringing him in, and it is bizarre to believe that a recent killer was caught in such a close proximity to our county.
Today is Friday the 13th, an unlucky superstitious day popularized by the 1980 horror film named after this unofficial 'holiday.' Normal superstitions are cult murders combined with black cats, broken mirrors, and the malicious supernatural; but this is 2020 and nothing is normal. It's happened twice this year and you may recall the last day we all went to school was Friday, March 13, 2020. Let's all just cross our fingers that after this Friday, our superstitions will become less super.
Hits : 3347
About the Writer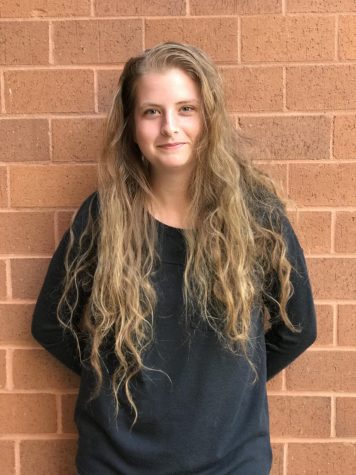 Lindsey Harmon, Associate Editor
Lindsey Harmon is a senior and Associate Editor for The Current at Watkins Mill High School. She is an honor roll student and participates in the ASL club,...