Black Panther brings more than just entertainment to Heze
Hang on for a minute...we're trying to find some more stories you might like.
Wakanda movies do you like? I happen to prefer the best movie of the year (as if every movie isn't the best movie of the year): Black Panther.
Not Pink Panther, not Black Jaguar, not Africa Man but The Black Panther.
The movie itself was amazing. The plot, casting, special effects, and the soundtrack was all to a tee. In fact, I only had two complaints about the movie. One is that the soundtrack they released before the movie only played about two songs in the actual movie. I can't really complain though because the one song I was hoping for, "All The Stars" by Kendrick Lamar and SZA (my wife) was played at the end so it was amazing.
The other "complaint" was that the line for popcorn stretched all the way back to Wakanda. It wasn't the fault of the people who wanted their food, but all the workers who decided to take their sweet time with every single order. No wonder you're losing money at concessions because next time, I'm just going to bring a whole buffet in my bag and claim it's my constitutional right to bring this bag with me into the movies, otherwise I'm suing.
Going home after the movie, I felt a feeling which I can't explain but haven't felt in a while. All I could think about is Black Panther. Every analogy or joke I made 24 hours post the movie had some involvement with the movie. Somehow, I found myself watching YouTube videos at 12am on the origin of T'Challa. I can't even remember the last time I did anything remotely like this for a movie.
The next day I went to work and I saw a kid playing with a Black Panther action figure when it hit me: this movie is everything I needed it to be. As a kid (and I'm sure you're aware of this) there weren't that many blockbuster superhero movies or comics featuring a black man or woman at the forefront.
Growing up as an African born in America is rough because you're too African for the Americans and too American for the Africans. Everywhere you went there was just some type of stigma placed on you even without a say.
Even when you look at Erik Killmonger's origins it's almost the same pattern: a young African who was raised in America and is taught little about his roots. By the time he was grown, he has already established his own truth. So in a sense, you could say I'm Killmonger, who only ever wanted to help his people who were struggling the same way he did (but with less desire to kill my cousin to become king).
Throughout the movie, there were times where I sat down and thought to myself, "Wow, that's crazy, I just saw that happen to my friends and me last week."
As a younger kid, all I ever wanted to be was a superhero. It was a hard dream to follow seeing all the superheroes I saw were white, all the spies were white, I even saw turtles fighting aliens in New York City. But it seemed as if to see Static Shock on a regular basis was too much.
The last thing I want is for it to seem as a race problem that makes it seem like "you just hate white people" but just walk in my shoes, or better yet 'sneakers' for a second: How much does it hurt seeing no one who looks like you or you can relate to? At times it's even made me feel like I was out of place. I didn't belong here, I belong in Africa with my people, but these same people try to belittle the place I come from.
And as an African, it's finally nice to watch a movie that portrays us in a positive light that isn't another Nollywood movie with the worst CGI effects known to man. Don't get me wrong; we do need help, but don't make it seem like every part of all 54 countries are struggling. We have some of the best riches known to man and people are just using it all wrong like in my motherland, the Democratic Republic of Congo.
Everything about this movie just feels different. Black Panther, believe it or not, has educated many African-Americans on the rich history and traditions of Africa. It has paved a way and I really appreciate how underrated Ryan Coogler was able to take on this role and turn it into something bigger than his expectations. All your actions will come with rewards you never dreamed of.
And if you ever need a director in training or another acting cast for the sequel, I happen to be African as well *cough cough* hire me *cough*.

Hits : 382
About the Writer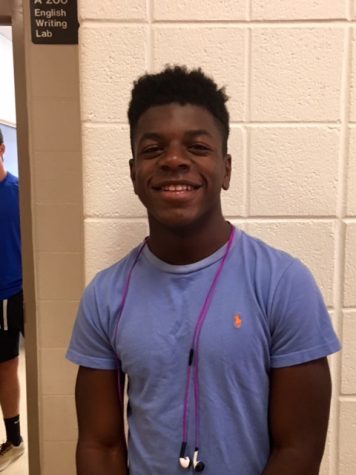 Hezekiah Likekele, News Editor
Hezekiah Likekele is a junior writer for Watkins Mill High School Current. He is primarily a sports writer but can also be a great addition for news and...