Seniors begin preparing for graduation, which is set for June 8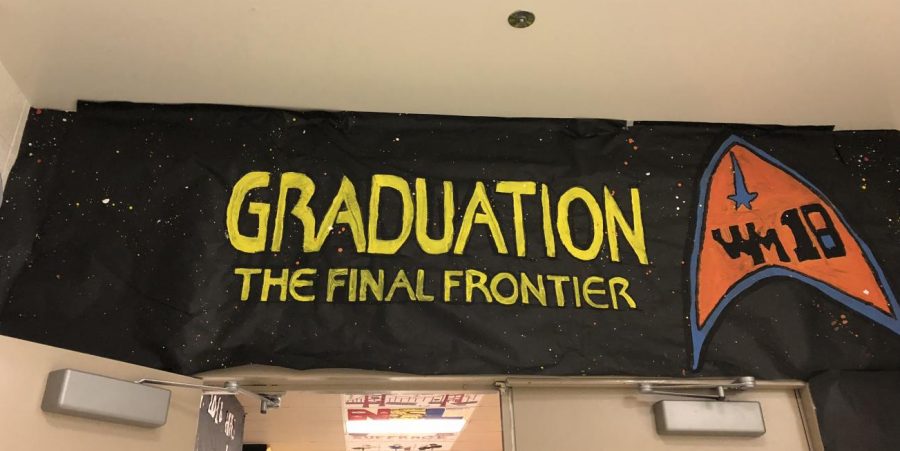 Senior graduation is tentatively scheduled Friday, June 8, 2018 at 10 am at DAR Constitution Hall in Washington, DC. There will be no school for underclassmen that day.
"I feel like [the graduation date] is at good time. Usually it's kind of far behind and… now it's at a good time and it's on a Friday," senior class vice president Britney Berry said.
Seniors who wanted to be a student speaker for graduation turned in their applications just before winter break. 
The school is looking for speakers who have an "inspirational message [and] represent the best of what [Watkins Mill] has to offer," senior class sponsor Katie Pesce said. A panel of teachers will help select student speakers.
The process for selecting staff speakers will start in early March and end in late March. During English classes, seniors will nominate a faculty member to be a speaker. Those nominations are narrowed down to three or four male members and three or four female members, who will be on the final ballot that goes back to the English classes.
The $50 cap and gown fees will become an obligation at the start of the second semester, which means seniors who have not paid will not be able to buy a prom ticket. Students can pay by cash or check and give the payment to Pesce in room C101.
On March 5, there will be a senior parent meeting at 7pm in the auditorium to discuss graduation. People who attend the meeting can enter in a raffle for free box seats for graduation.
The graduation team consists of SGA sponsor Lauren Squier, Pesce, senior class administrator Steven Orders, business manager Julia Broyles, and principal Carol Goddard. Squier was the senior class sponsor in 2014 and is now the graduation coordinator for every year.
The senior class council members, elected the previous year, are Sarah Elbeshbishi, Fiona Franke, Berry, and Yaelin Pereira. They attend planning meetings, write their own speeches, write introductions for speakers, and make decisions for the graduation ceremony.

Hits : 970
About the Writer
Vicki Wong, Editor-in-Chief
Vicki Wong is a senior at Watkins Mill and one of the Co Editors-in-Chief. She has been writing for The Current since her sophomore year and primarily...