Senior Reflection: Grace Edwards
I am the sentimental type. So, I don't know why I was surprised when I broke down crying after my penultimate math class. My math teacher (Hi Ms. Atamas) talked about the senior's last day of class, and what we would've done if we were in-person. (She would've made us Belgium waffles). 
Maybe I cried because we had just finished a math test, and I was stressing about it earlier, so I was relieved to finally be finished with math. Maybe it was because I was reminded of all the things I would've done differently if we were in person; I wish I would've done so much more. Maybe I cried because these past few weeks, my family and I were inundated with moving, and I finally allowed myself to 'sit with the emotions' of this closing chapter. Maybe it was all of the above. 
I've written down notes for this senior reflection since junior year. I had a lot of ideas: reflecting on the moment I met Ms. Confino through a freshman English assignment, and her encouraging me to join her Journalism class, my hesitancy in taking a journalistic class, or thanking my teachers, not knowing if you'll ever even see this. I took a chance with the last idea. 
Thank you to the teachers who comforted me with your humor and wise words when COVID-19 greeted Montgomery County, and uncertainty and anxiety filled our hearts. Teachers like Mr. Weiner come to mind.
Thank you to the teachers who inspired me with their allyship, when George Floyd was killed: Mr. Weiner, Ms. Davis-Vaughan, Mr. Allen, Mr. Gordon, Ms. Confino, Ms. Torres-Meriwether, and Ms. Squier. Thank you to the teachers, both behind the scenes and front in center, who continued to defend and advocate for racial equity in education on the behalf of their students who didn't look like them. Thank you to the teachers, particularly those who don't teach at Watkins Mill, who began their anti-racism/anti-bias journey by attending development trainings hosted by their school's MSP and ABAR committees. 
Thank you to the teachers who supported my insistent questions about assignments throughout high school. Thank you to the teachers who believed that their students could achieve anything, despite their circumstances and the stereotypes assigned to their school. 
 Most importantly, thank you to the teachers who, despite this unprecedented year, made school as "normal" as possible. Teachers like Ms. Atamas, Ms. Wilkinson, Mr. Sneddon, and every teacher who adjusted to virtual school, continued to give tests and quizzes, and yet remembered to forgive their students and themselves when mistakes were made. 
A couple of last messages I want to share with my classmates. 
I am so proud of all of you. Leading up to graduation, I had several friends congratulate me on my accomplishments and mention, directly and indirectly, that they didn't like sharing their accomplishments because they seemed "lame" in comparison to their other classmates. My first message: Your accomplishments are meant to be celebrated, not compared. Watkins Mill has been subjected to too much marginalization and scrutiny because of stereotypes and where we live. You succeeding in any way defies that status quo.
If you received a scholarship, that's amazing! If you're going to community college, be proud you're pushing yourself outside of your comfort zone to higher education. If you need more time to be independent and focus on yourself, that's great! You're taking a step towards your personal growth. You can and will accomplish any of your dreams; don't settle for less than what you're capable of doing. Relish and celebrate each of your accomplishments, big or small.
As a result of your self-respect and joy, lots of people are going to be envious of your growth and achievements, and might expect you to change for them. My second message: don't. I lived my entire life worrying about how other people perceived me. I turned myself inside out. I diminished myself to accommodate other people's feelings and fit their standards, so I didn't lose certain people as friends. It didn't matter. I still lost their friendship. Be the best version of yourself, and never stop learning. 
The only words I know how to describe my high school experience are "change" and "growth." I steadily watched myself become the woman I wanted to be when I was 12: loved, supported by the people who matter most, and determined. 
I can't wait to see what she does next. 
Hits : 1920
View Comments (1)
About the Contributor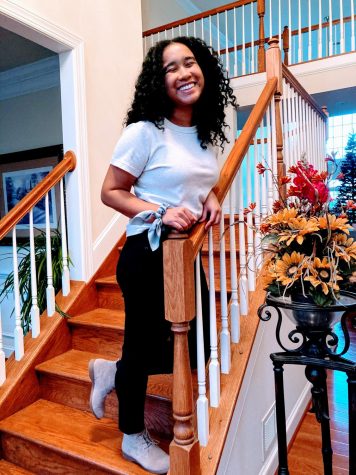 Grace Edwards, Editor-in-Chief
Grace Edwards is a senior at Watkins Mill High School and Co-Editor-in-Chief for The Current. She is a straight-A student who enjoys playing her violin....