MCPS canceling meal distribution but continuing virtual learning hurts
While Montgomery County Public School's decision to hold virtual classes may have seemed wise due to yesterday's and today's forecast,  this morning's decision to close all school buildings, cancel childcare and meal distribution only sets up students—particularly low-income students—and teachers for failure. 
This decision probably made perfect sense at the more affluent schools, where students  1) have more existing resources to thrive and 2) are less likely to depend on meal distribution. However, for schools like Watkins Mill High School, which are less affluent and more likely to rely on meal distribution, this is not equity. How are students expected to attend class and participate meaningfully on the first day if they have no access to food? 
COVID-19 has already devastated communities that resemble Watkins Mill's: families of color and communities of low-income. According to APM Research Lab, "While Black and Latino Americans experienced slightly higher losses in the late July-early August period over the latest one, deaths have been recently surging for those groups, as well as for Asians."
"Black and Indigenous Americans continue to suffer the highest rates of loss—with both groups now experiencing a COVID-19 death toll exceeding 1 in 750 nationally," the article continued. 
Watkins Mill has a Black and and Latinx student population of 81.4 percent, 6.7 percent white student makeup, with 51.3 percent of students on the Free and Reduced Price Meals program (FARMS). Of those FARMS students, 14.7 percent and 31.6 percent are students who identify as Black and Latinx respectfully. This decision was not only imprudent, but disappointing, as MCPS appeared not to have taken into consideration those who are most negatively affected when food programs are canceled for one reason or another. Watkins Mill is only one of several other MCPS schools that have a high percentage of FARMs students who are expected to have a successful first day of the second semester on an empty stomach. 
Additionally, the mental health of students continues to decline, especially those who are low-income and students of color. "Black and African American people living below poverty are twice as likely to report serious psychological distress than those living over 2x the poverty level." This declines, especially when these same students of color do not have full meals, once again, exacerbating serious disparities between low-income communities of color and more affluent white communities. 
Canceling childcare provides problems as well. Most MCPS teachers are working from home, often with their own children. While school-age children are engaged in their own classes, preschool children cannot be left to their own devices while their parents teach. In addition to severe connectivity issues due to the snow storm across the county, canceling daycare forced teachers into an uncomfortable and stressful environment, in which they have to juggle both caring for their toddlers—who need immediate and regular attention—and teach. Teachers have every right to equity, especially equity in teaching conditions, as much as students do. 
I urge MCPS to not just express concerns of prioritizing mental health and equity but practice it as well.  Was this decision truly beneficial to the students whom MCPS claims need the most support? Or to the vocal group of parents who want their children occupied while they work? 
Hits : 1589
View Comments (2)
About the Contributor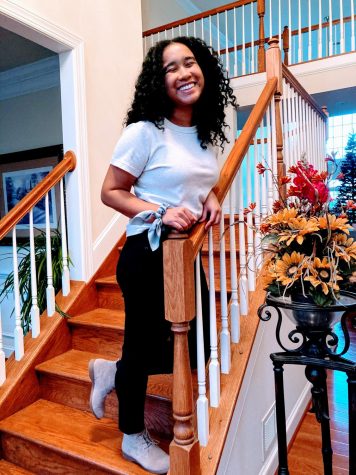 Grace Edwards, Editor-in-Chief
Grace Edwards is a senior at Watkins Mill High School and Co-Editor-in-Chief for The Current. She is a straight-A student who enjoys playing her violin....