An open letter to the class of 2020 from a fellow member
To the class of 2020,
We are currently sitting at home, missing our friends, our sports, and our senior year, but I think it's important to know we are strong—and not just because of this.
When we entered the world, we were born into the direct aftermath of 9/11. We began our lives in a time where pain and grief were common. We have grown up with the regulations of a post-9/11 world. We have only ever lived during a time of enhanced security measures and we have seen the fear that emerged from the attacks. Change was a part of us from the moment we took our first breath.
One of the first alterations to directly affect us occurred on an academic level. Common core was adopted between 2009 and 2010, meaning we changed our way of learning in second and third grade. Our building blocks were stacked with tape instead of cement, but we got through that and we will get through this.
Technology has rapidly advanced as we've grown. And as helpful as modern technology is, the variation from year to year made it hard to focus on the material we were learning; from whiteboards to desktop computers, to projectors and screens, to Promethean boards, to chrome-books, we had to adapt to new methods of learning. Technology changed our lives in major ways, and not all of them good, but we got through that and we will get through this.
In 2012, Sandy Hook suffered one of the worst tragedies imaginable; we were in fourth grade. We were confused and scared—it was our first experience with something major that affected kids our age. And while we were too young to fully understand the capacity of what happened, it was a topic of conversation everywhere. It was hard to understand and scary for parents and teachers and for us, but we got through that and we will get through this.
We grew up with Barack Obama as president: a man that represented equality and strength, one who set an example for us as we learned about the government. Then, our world changed again as Donald Trump took office in 2017. We were finally old enough to understand politics when our leader changed from elegant to ignorant, but we got through that and we will get through this.
In 2018, a gunman opened fire at Parkland High School in Florida. It became a topic at home, in our classrooms, and all over social media. We've spent our high school years watching as shooting after shooting occurred, as students our age were killed, and as our peers fought for their safety. But we rose up as a generation to organize marches and protests, to fight for our safety in schools, to spread awareness and speak out on social media. People told us that we're "too young" to understand. But we are still fighting that battle.
Now, we watch as a worldwide pandemic takes away our friends, family, sports, and our senior year. We watch as the world hunkers in their houses in fear and people file for unemployment in unimaginable numbers. We watch as students and teachers try to adjust to online learning in desperate attempts to continue education and as student-athletes lose their seasons. We watch as hospitals fill up, as people die, and as the government tries to somehow hold everything together. We watch as the upcoming election—our first chance at voting–becomes a minor part of the news (and understandably so).
We are living through a time of unprecedented events; it feels surreal and will become a topic in history books that our kids will read. It is another change we are experiencing—another change that will inevitably add to our character.
And while our eyes are glued to the television, watching the news, our heads are filled with unanswered questions. Will we finish our senior year on time? Will we ever actually have a last day of high school? Will we have a senior prom? Will we walk at graduation? Will we get to celebrate the 12 years of work we have put in to gain an education? With the high-priority issues caused by this disease—the sickness, deaths, and pain—these questions might seem irrelevant, but we are living through yet another change during a transitional period of our lives.
People don't realize how much has changed within our lifetime, but so much has. And even though that has brought challenges, it has made us stronger than anyone could have ever known. We were strong enough to grow up and learn about politics despite being young, to fight for our safety, and to challenge adults who told us we're too young. We were strong enough to spread love and accept people more than previous generations, regardless of race, gender, sexual orientation, etc. We were strong enough to lean on each other throughout the craziness and to find humor and make ourselves laugh when things got bad.
We are ready for the real world. We are ready to change the world because all we have known is change: but we adapt, we overcome, and we find ways to band together and thrive. The class of 2020 has grown through times of pain, chaos, and change. But we have found a way to turn that into love, hope, and improvement.
We will get through this together.
Hits : 5784
About the Contributor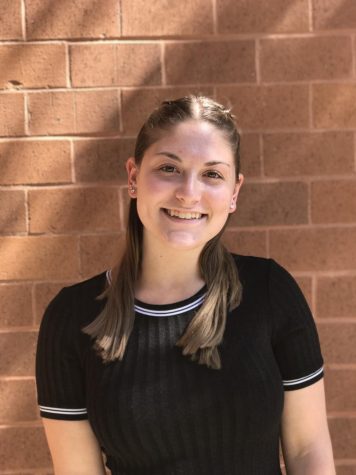 Jade Pinkowitz, Editor-in-Chief
Jade is a senior at Watkins Mill High School and Editor-in-Chief for The Current. She is a four-time varsity girls volleyball player and involved many...