Trone hosts "Cake and Conversations" education panel with Kirwan Commission
During a "Cake and Conversations" event on February 24, Maryland's Sixth Congressional District Representative David Trone, spoke with Maryland leaders, continuing his support for the Kirwan Commission on Innovation and Excellence and their mission to improve education.
The Kirwan Commission is an initiative created in 2016 by the Maryland General Assembly that is dedicated to providing a "world-class education for Maryland's public school students" by studying high performing school systems in the world and using that information to improve other schools. The Commission includes members who represent a bipartisan spectrum of leaders.
"[There are] five policy areas," Chair of the Kirwan Commission on Innovation and Excellence in Education William E. Kirwan said. "[First,] invest in early childhood education; Second, [make] teaching a high-status profession. There isn't a high performing school system in the world where teaching isn't considered the equivalent of being a lawyer… that's what we have to do in the state of Maryland."
"Third, we've got to build a curriculum…" Kirwan added. "[Fourth,] we have to address the funding equity issues. Finally, we have to have an accountability structure that will convince you that you're getting your money's worth in our education."
Doors opened for the Cake and Conversation event at 6 pm. Kirwan, Maryland State Education Association President Cheryl Bost, Frederick County Student Member of the Board Malachi Macon, Senior Associate of National and State Partnerships of The Education Trust Robert Ruffins, and member of the Frederick County Board of Education Karen Yoho, were in attendance for a discussion panel.
Before the event began, Trone stressed the importance of the 2020 Government Census, concerning Frederick County. "It's often folks of color [and] seniors [that are undercounted]. Counting the census is 100 percent safe. All [of the data that] the census [collects] is 100 percent confidential for 75 years. That's the law," Trone said.
"If we don't register everybody on the 2020 Census, Frederick County [has poised] about a billion dollars for the next ten years of free money. That money would be going to education, hospitals, roads," Trone added. "We don't realize how easy [the government census] is, and how important it is."
Questions administered to the panel concerned financial literacy competency in schools, and racial inequality in educational opportunities. However, the main topic of the evening concerned equitable funding, obtaining the necessary resources for schools, and the importance of teachers in the state of Maryland. 
"The reality is, in a state that has a lot of resources, we still give black and Latino students, in particular, the least of the resources that matter most," Ruffins said. "We have to be thinking about how we use these resources differently: everything [from] the most important resource [which is] teachers, to the opportunities to have support staff in schools, and the curriculum offerings that are provided to students."
"The biggest thing that [educators are] missing right now is respect. And that respect can come through professional pay. [Respect] also comes in giving us the resources that we need to do our jobs," Bost said. "Right now, [the Maryland State Education Association are hearing] from our teachers and educators across the state [that] class sizes are too large, [and they] can't address each of the students and the needs that they have. [They] don't have enough special education teachers or special education services. All of [this] support that we are denying teachers [are denying] our students a great education." 
"We can open a lot of doors for students. But it doesn't matter how many doors can be opened if the student doesn't want to walk through it. All of [these] students inside of that [young black student] demographic, could want to excel, but be worried about what everyone thinks about them. A teacher can break that down," Macon said.
"Additionally, in terms of mental health, there's a lot of things that students go through. [There are] pressures to perform academically, stress about applying to colleges and worrying about the future," Macon added. "All of that can be cumulative, but again, a teacher can help relieve all of that stress and allow them to perform better."
Trone briefly addressed the issue of standardized testing, recommending that Montgomery County Public Schools continue to work with the Kirwan Commission. "We still need some standardized testing, but [there's] too much 'measure, measure, measure', and too much teaching to the 'test' [but instead,] we need to work on just education period," Trone said. "We've got to embrace change."
After several fundraising and community outreach events, Trone continues to campaign for education. "The beauty of education is that it pays for itself," Trone added. "We just have to be patient. Sometimes in America, we're not thinking long-term and not being patient. Once these folks are taken care of, and get the right education, they're going to have better jobs, better careers, pay more taxes, and then all that money circulates right back into education. We pay that forward, in education, [helping] in pre-k, all these areas, we can help young men and women get a good start, a fair start that everyone deserves. We can all get out ahead in the end."
Hits : 1846
About the Contributor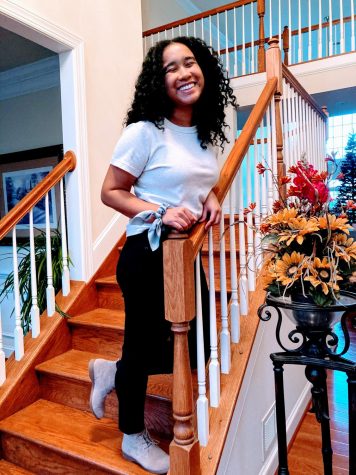 Grace Edwards, Editor-in-Chief
Grace Edwards is a senior at Watkins Mill High School and Co-Editor-in-Chief for The Current. She is a straight-A student who enjoys playing her violin....