First-generation college students work hard to achieve their dreams
For as long as I can remember, school has always been something I was good at. I excelled in my grades, I worked hard, and I constantly focused on planning out my future after high school. I thought I had it all mapped out and I thought I understood exactly what I was up against. But what I failed to understand was that I was a first-generation student with obstacles I was too young to even be aware of.
Being a first-generation student means that either your parents or your assigned guardian never attended a four-year college or university. Therefore, you are the first generation in your family to do so, which is such an important accomplishment but it can be overwhelming at the same time.
For me, it wasn't until I was nearing the end of my junior year and I was taking college preparation workshops that I was realized I had no idea what I was doing. Being a first-generation student, you usually don't have the support of someone who has gone through the college process to help you through it, which can make it more intimidating than it already is.
A lot of first-generation students don't know if they are college-ready or if they meet the "standards" of a "normal" college student. This is because they don't have the resources to go on college tours of the campus or they don't have someone to make sure they are on the right track.
For many first-generation students, there is a lack of family support, not because families don't want them to succeed and go to college, but because many parents of first-generation students don't speak English as their first language. It can be difficult to communicate to your parents that they need to get a certain form signed, let alone help you fill out FAFSA.
Beyond that, many first-generation students have a hard time trying to figure out the financial obligations that come with applying and attending college. A lot of the time, first-generation parents have jobs that only pay enough to get them by with the necessities and students who do work are simply trying to help their parents financially. So, it can be hard to stomach the cost of 75 dollars for every college application or 40,000 dollars in college tuition.
There are many mental obstacles that first-generation students have to tackle as well. For me, one of the biggest challenges was the constant pressure that surrounded me. There were deadlines I had to meet, financial papers I had to fill out without the help of my parents, and so many questions I had to figure out the answer to all on my own. This does not include school and family obligations I had to keep up with as well, or the immense expectations I put on myself.
I am someone who has always been a perfectionist and to know that I didn't have it all under control was a hard reality to come to terms with. There were many moments where I wanted to give up and fall into the stigma many first-generation students face. I spent a lot of time trying to understand that it was okay to ask for help and that I wasn't truly alone in this process.
I was lucky enough to have such a supportive family who went to great lengths to help me in my college process. I was lucky to have resources available at school from my teachers to CollegeTracks who answered every question and tended to every concern. I was lucky to have great friends who encouraged me to keep going and invited me to go with them on college tours.
I know from experience how stressful being a first-generation student can be and how much harder it can be to stay motivated all the while trying to get a better education. But, I also know that when you ask for help, there will always be someone there to help you achieve your dreams.
Despite all the obstacles that I have faced, I am so grateful and proud to be a first-generation student.
Hits : 877
About the Writer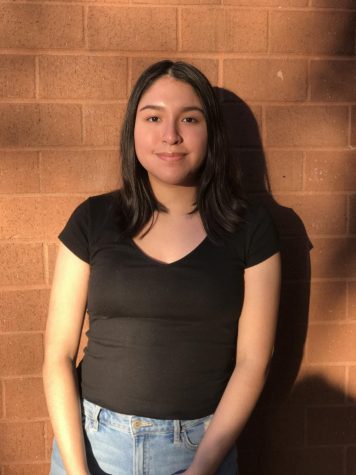 Gisell Maravi, Associate Editor
Gisell Maravi is a senior at Watkins Mill and is one of two Associate Editors for The Current. Gisell is apart of the Minority Scholars Program, National...