Senior Reflection: Nana Achiaa Osei Tutu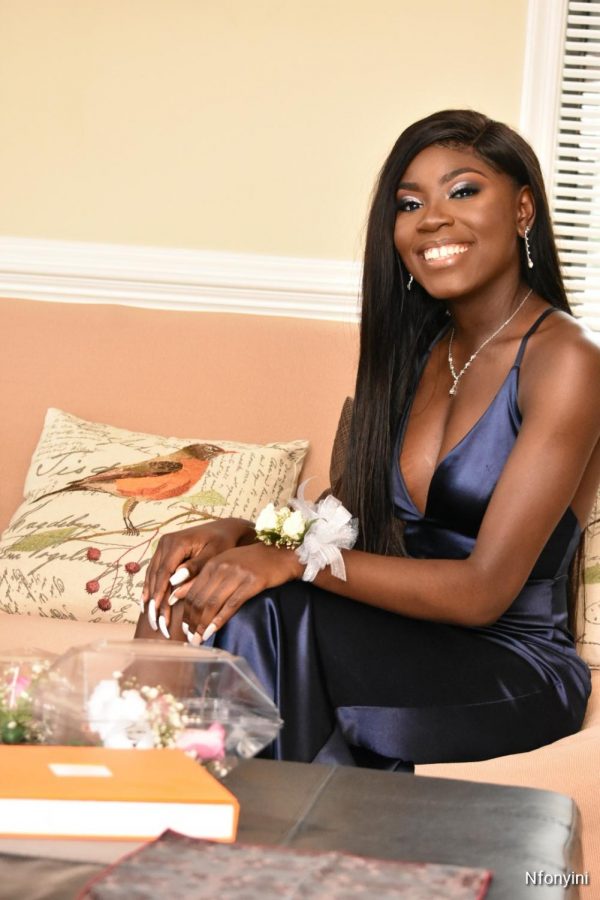 It's hard to believe that my 13 years of schooling in MCPS are coming to an end on Friday. Being in Watkins Mill for all four years of high school has been the best and worst four years of my life. I've come across people that I know have impacted my life in years to come.
I remember walking into Watkins Mill for freshman orientation. The seniors from class of 2016 told us the Mill would be just like High School Musical. I promise it's true. I began to meet many of my classmates and friends. We were all so nervous and shy being fresh out of middle school. I remember thinking the school was HUGE! It was so hard for me to find the different hallways (even though they're stacked on top of each other). I was honestly so terrified of what was to come for the next four years.
I remember walking in to school on my first day of high school in my soccer practice clothes because I had convinced myself that I was the most unbothered person. I don't remember my first period, but I remember meeting Confino because she was my second period English teacher. She was so happy and bright in spirit, it was so nice and refreshing. Honestly the only reason I took journalism was because she told me I would be a good writer (which I didn't believe), but I'm happy I did.
Sophomore year was definitely my best (and favorite) year of high school. It was super fun and I made some of my best friends that year. My best friends and I like to joke about it being our peak of high school. One of my favorite memories was how our school spirit was super high that year. No matter the sport or location of the game, we always went out to support the team. This was also the year I joined the newspaper staff (newspaper is fun guys! Please join!) which was one of the better decisions I've made in high school. School is almost over and I promise I have yet to regret it.
Junior year was a rough one. Classes started getting harder which was a change because I was flying through high school up until then. I also stopped playing soccer which was really hard for me because I love the sport so much. I began training all year for track. My track team was so great last year. We went to indoor and outdoor nationals, Penn Relays, and won county, regional, and state champs for the girls and boys 4×100 relay. Traveling with the team was thrilling. I missed a lot of school, but it was still fun.
Newspaper had a huge year 2017-2018 school year. From the article about Je'nan to the article about slave owners getting MCPS high schools named after them. It was crazy. The attention our newspaper got was crazy and getting to see and help edit the articles before they went online was exciting!
Now we're at senior year. It definitely came by faster than this article is. I was so excited for the year. Like finally the end of high school! But I wasn't ready. Everyone talks about how chill senior year is and how they barely did anything. THEY LIED. ESPECIALLY IF YOU'RE TAKING IB OR AP CLASSES! Don't say I didn't warn you. The workload from your IB classes are crazy! But it's fine though! I (barely) made it!
I pulled a lot of all-nighters this year. I also took three hour naps and then woke up at about one or two am to finish homework. It was quite terrifying when I started getting used to only sleeping one or two hours a day but I like I said, I made it!
High school was a roller coaster of emotions. I grew apart from a lot of people which is unfortunate, but life goes on! I want to thank Confino so much for advising that I sign up for newspaper. Learning different writing styles really grew my vocabulary as well as helped me become more open minded when it came to political/sensitive topics. Also it helped me with my IB exam! Knowing the way different types of articles are written is very helpful!
Mrs. Confino, I enjoy all the pictures and videos you show me of Jacob. He's the most handsome boy! You are the proudest parent I know and he's gonna be the smartest kid because he has the smartest, most open minded, supportive mommy. Thank you for listening to me when I had problems or just being understanding in general. I love you so much and I will truly miss you.
I also want to thank the teachers or staff members who have had an impact or even just said "Hi" to me in the hallway. Sometimes when I wasn't having the best day and having a teacher be even semi-excited to see me just warmed my heart.
I don't think that students at Watkins Mill realize how supportive and how much the teachers and staff members care about us. They only want the best for us and would really go above and beyond for everyone of us. The school has so many resources and people that can help with any problems you have. Pleaseeeeeee underclassmen, TAKE ADVANTAGE!! There are staff members all around the school who care about you. Ask questions and ask for help.
I'm honestly kind of sad to leave Watkins Mill. Even though I joke about not liking the school, I really do love the school so much. The staff, friends, and experiences I've had at the school are unmatched. I know that I would never get the experiences at another school, nor would I want to attend another high school even if I could go back in time.
Thank you Watkins Mill for the interesting, but amazing four years. I wouldn't trade it for anything else in the world. It's been real. GO 'RINES!

Hits : 1266
About the Writer
Nana Osei Tutu, Editor-in-Chief
Nana Osei Tutu is a Senior at Watkins Mill and is one of the Co-Editor In Chiefs of The Current. She is involved in many programs at the mill as well ...