Johnson leaves Watkins Mill for new role, promises to stay involved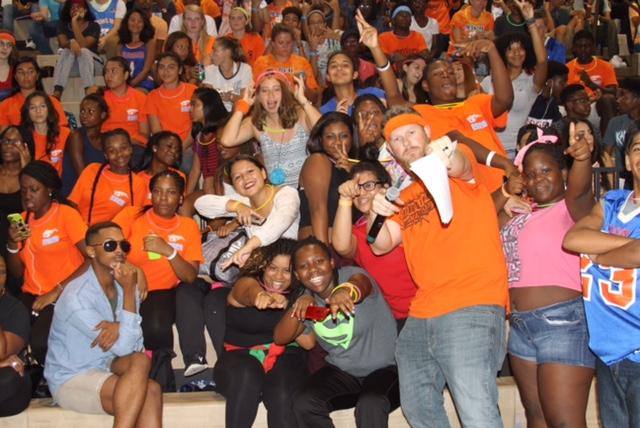 Science teacher Matt Johnson is taking on a new set of challenges and opportunities next year because he is leaving Watkins Mill and beginning a new chapter working at central office.
Johnson is more than just a teacher at Watkins Mill.  Taking initiative from his time spent as the Baltimore Orioles mascot before becoming a teacher, he reinvigorated  Orange Nation, leads all pep rallies, started the annual Rock the Block and Mill Madness celebrations, hosts school fundraisers, spearheaded the fundraiser that raised over $32,000 to get a student a new wheelchair, leads the freshman Youth Summit, and he does the morning announcements, among many other roles.
Johnson did not seek this change nor was he planning on switching jobs in the near future. However, he was offered an opportunity that was too hard to turn down. "I tell my students and others that I am a big advocate of taking advantage of opportunities that come your way, so I had to go with this," Johnson said.
In his new job, he is going to be creating online science lessons for any home and hospital kids who cannot be in school. He will be able to teach and interact with a new group of students who truly need engaging instruction.  
His decision was largely influenced by his family. This job will allow him and his family flexibility in being able to transition his sons into school in the next couple of years.
"We're lucky to have had him for as long as we have. I'm honored to call him my friend, and I know that even though he's leaving the WMHS staff, this school is in his heart, and he'll never be far away," assistant principal Steven Orders said.
Johnson said there are too many things he will miss about Watkins Mill to list, but what stands out most to him are the students and staff. "There are so many good people here, and I loved getting to work with every single one of (the staff members)," Johnson added.
His main message to students is that he hopes they understand and that he has enjoyed working on improving the spirit and community of Watkins Mill. But having that much constant spirit and responsibility has taken a toll on him and his family, and it is time for him to return some of that energy to his family and his children.
Johnson wants his students to know that he loves them, and that just because he isn't going to be in the building does not mean that he will not be a part of their lives and a part of this community.  
"I think Watkins Mill has a strong student body–students rise up against all odds.  They fight adversity, and overcome obstacles," social studies teacher Lauren Squier said. "Even though we are losing one of the most spirited guys, the students here will be able to carry on with what he started. He built strong individuals, and I know they won't let him down."
"This is my home away from home, and I would never leave this place in my dust," Johnson said. He still plans to be involved at Watkins Mill however he can. "I will be back for games, events, concerts, graduation, and of course…Rock the Block," he added.
He will never forget the memories he made here, such as seeing student cross the stage at graduation, Ibra's wheelchair fundraiser, watching seniors party in the front lot, and Mr. Watkins Mill, among others.
"My vision was to improve this community and make positive change for the students, staff, and families here and I feel that these events did exactly that…so I will remember those moments from these special days," Johnson added.

Hits : 1551
About the Writer
Jessica Cruz, Editor-in-Chief
Jessica Cruz is a senior at Watkins Mill High school and is one of the Editors in Chief of the Current. Jessica has been playing softball and running track...