Black Panther soundtrack album review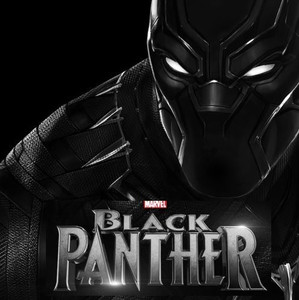 We all know what movie is coming out today: Black Panther.
This is probably the most anticipated black movie ever. Maybe even the most anticipated superhero movie. I'm probably sicing it, but who cares? We all have high expectations for it.
Director Ryan Coogler has employed the talents of Top Dawg Entertainment to produce a soundtrack for this anticipated film. TDE has used this opportunity as an excuse to drop one big, all-star collab album with Kendrick as the executive producing captain. Honestly, I was not expecting what we got on this album. There are moments where I forget this is all for a movie until they specifically reference something from the movie. There's soul and R&B on this soundtrack too, but that's none of my business. It makes it a little easier for me now I don't have to go over 14 tracks.
"Black Panther"– This track is definitely made just for movie use, Kendrick isn't only claiming King as the Black Panther, but King Kendrick. I think he's comparing himself and the Black Panther as both kings of their culture. I mean, the guy just won four rap Grammys–I think it's safe for him to call himself King. I don't really like the piano on this song, but Kendrick makes it work for him and I'm sure it'll make for a good scene in the movie.
"X"– Kendrick on this track, like most other songs on the album, creates a space for other rappers to go in on. You don't really miss Kendrick on this track because that's how hard the other artists go in.
I don't know why I've never heard of this South African artist Saudi, but he goes in. Saudi almost killed Schoolboy Q on it. His flow is effortless and he even mixes the Zulu language while he's rapping. To create bars that have punchlines between two languages is something very serious. "Somebody ngiph' indwangu netissue, I'm dripping" Sounds like gibberish used to keep the flow going, but it translates to "show me the cloth." Not only did he put another language in his flow like it was nothing, the bars made sense when he did it (that was only one example).
Schoolboy Q raises the standard again and keeps the "are you on ten" theme going. He drops one of the hardest bars on the whole tape here: "not even Kendrick can humble me." Q isn't scared to trade bars with Mr. Seven Grammys.
I love 2 Chainz's features and he doesn't disappoint here, he slows down the song, which I wasn't expecting but keeps up the being on ten theme by boasting about "strip clubs to stadiums."
"Opps"– The beat makes you feel like you're on the last level of a throwback video game. I'm definitely predicting the movie is using it for a fight scene. Again Kendrick is used to set up other rappers. Vince Staples knows how to tell a story through his bars. Rappers that can keep you entertained and excited while spitting bars–real bars–are rare. Vince says, "Brothers die, cause coons turn to butterflies." That's hard man.  It sets a racial tone to the album that is sure to be reflected in the movie.
Another African rapper, Yugen Blakrok, hops on the beat and raps like Kendrick put a gun to her head. She easily had the best verse on the album. Her wordplay was crazy, her flow was super fast, she kept up the song's sense of danger, and her delivery was perfect. She said, "Stand behind my own bars like a seasoned criminal," "Mouthpiece drawn got a verbal armory," and "Blades on the top, Kathleen Cleaver." (Kathleen Cleaver was an actual Black Panther.) Yugren made bars that match the movie's theme, had better wordplay then Vince Staples, and made you feel like you should start running away from something.
"Paramedic"– The first few seconds of the song make you think it's another movie-specific track, then Kendrick comes in and makes you think he forgot to put this on Good kid m.a.a.d city. Again though, he's not even the best part; each member of SOB x RBE brings something different to the track. Each of their verses is so good it feels like it could be part of a separate song. I don't know why Kendrick has never used them before but that's a conversation for another day. RBE's bars speak for themself throughout dropping lines like "One whole wood to the neck, its an eighth in it, new baby chop let it sing its a Drake."
"Bloody Waters"–Anderson Paaks' warm preacher-like vocals compliment the drippy conga drums. When Ab-Souls starts rapping, his delivery is so hard the beat has to stop and get out of his way at the end of some punchlines. Normally I don't like Ab-Soul, but his wordplay on this song is just too good. His second verse isn't as strong as his first though, and despite the good story it tells, it gets boring.
"Kings Dead"– Rappers who can make you want to turn up and tell a story through wordplay and bars are almost non-existent currently. Top Dawg gave us a whole album's worth of this and this song is the perfect example of that.
I haven't been giving Kendrick much credit during this whole thing, but he's been killing every hook he's touched, and this one isn't an exception. The hook makes me feel like I just copped a Lamb and I'm speeding in it. Jay Rock hops on and just goes in before he switches up his flow he says "Bust that open,  I want that ocean," then in the next line says he needs "two life jackets," that's something serious. I feel like he switched up his flow to make us anxious for the next verse, and it works to make you feel rushed. When I heard Future hop on the hook with Kendrick I was like ohh that's what they were rushing for.
The first time I heard this, after he said, "I haven't made my mind up, should I keep it?" I paused the song. I was like, "Wow. This guy Future really is about to go in."  So I kept playing and heard the most disrespectful verse of 2018. Mr. Hendrix really just hopped on a song with Mr. Seven Grammy woke lyricist and Jay Rock and said "Chitty Chitty bang." Come on. You couldn't bring out a better verse for this and I know you have one because you were just going in before this.
I'm surprised producer-guy Kendrick listened to the final version and said, "Yeah, man, Future went in as hard as Jay Rock." I'm not saying it sounds bad, but they set a certain standard for lyrics and subject matter throughout the project, so this is just dumb, no hate to Future though, he cranks. The beat switch-up gave Kendrick his hardest verse on the album, but you can tell it's needed for a specific movie part. I'll guess a chase scene.
"Big Shot"–The flutes make this song honestly. When I realized Kendrick recycled some of his "New Freezer" verse here, I was kind of disappointed. Other than that, his verse is really good. I like how he and Travis emphasize the last words of their bars. I feel like they had on a smile when they were rapping the lines. The track isn't too special though, and it feels like it'll be used for intro music in the movie.
The rap songs on the album do an amazing job of using African artists, black cultural references, and movie references while keeping you very entertained. One thing that surprised me was the amount of racial slurs and profanity that were used in the songs. I would guess they were allowed in the PG-13 movie because they're important to the cultural themes, so I'm excited to see how that works.
I'll be going back to all of these songs especially "Paramedic" except maybe "Bloody Waters," but we can blame that on my Ab-Soul bias. Other than that, without considering the other songs on the album, I'd give it a 7/10.  Definitely worth listening to whether you plan to see the movie or not.
Hits : 4684