O'Shea players prepare to perform '25th Annual Putnam County Spelling Bee'
Watkins Mill production looks to light up the spring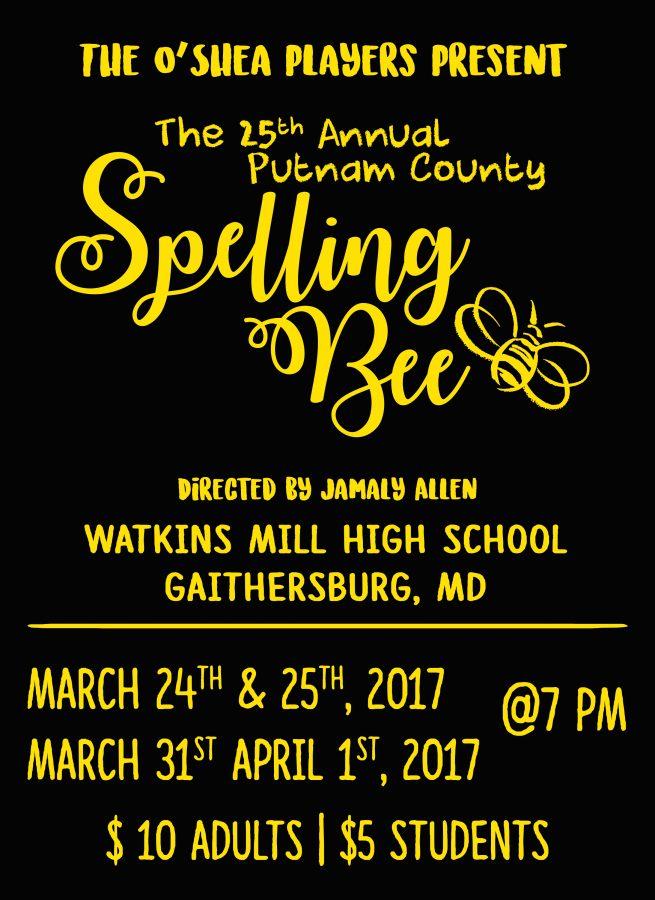 Watkins Mill High School's O'Shea players will be presenting The 25th Annual Putnam County Spelling Bee for their spring production. The production is a one-act musical comedy that revolves around six quirky adolescents competing in the Bee.
Teacher, coach, and director Jamaly Allen chose this musical to challenge the thoughts of our community. "It's sort of a risk to challenge the community and the thoughts of our children," Allen said.
Junior Elisabeth Warren participated in The Laramie Project in the fall and is very excited about participating in the musical. Warren will be playing multiple characters: Rona Lisa Peretti, the host of the spelling bee, Leaf's mom, and Olive's mom. "Things will definitely run smooth on the tech side," Warren said.
Senior Michael Creeger's will be playing Vice Principal Panch in the musical. At first, Creeger was taken aback about the musical choice but now he is really excited about being part of the cast. "I thought it was going to be a kids show," Creeger added. "But it's a lot deeper than I initially thought."
Allen also chose this musical because it is something that the community needs to see. "You have to have that good balance of actors and great subject matter," Allen added.
The production will make its debut on March 24, followed by three more shows on March 25, 31 and April 1. Doors will open at 6:30pm and the production will begin at 7pm. Tickets will be sold at $5 for students and seniors, and $10 for adults.
This will also be the first production on the Watkins Mill stage since the old lighting and rigging equipment has been replaced. The new equipment provides better, safer lighting for the theatre and tech crew. 
"[Our old stage lights] weren't appropriate for high school theater," Allen added. "Lights would go out and wouldn't last long." There were also dead spots on the stage and not enough lights on in the past. While the stage got set up with a new lighting system, actors in the play would rehearse in the chorus room.
Now that the school has new stage lights, it is a lot easier to see the stage and accent the scenes. "[The stage] would be a lot more visually pleasing," senior Michael Creeger said. Creeger has been part of tech until this year, making this is his first time working as an actor with Allen.

Hits : 1117
About the Writer
Aisha Sowe, Associate Editor
Aisha Sowe is a senior and an Associate Editor for The Current.  Aisha has been writing articles for the school newspaper since her sophomore year. After...