Montgomery Village police join football to defeat Seneca Valley in officers/players game
Hang on for a minute...we're trying to find some more stories you might like.
Watkins Mill football players and Montgomery Village police officers joined forces as they beat the Seneca Valley football team and Germantown police officers 49-35 on Thursday.
The game was played in The Den on a frigid December night, but both teams and all of the fans still had a good time.
Although the 'Rines kept score, the game wasn't only about winning. This game was all about coming together as one despite being from different towns, attending different schools and having different beliefs. "All the players and officers came together as one group out there to have fun and build positive relationships together to make this whole community a better place for all," science teacher Matthew Johnson said.
The game was held to help raise awareness and show unity between police officers and high school students. This game is causing a discussion in the area about police brutality and the violence that has taken place across the country between young people and police.
The 'Rines and MV police got out to an early lead and never looked back. Football players junior Markel Grant and freshman Vincent Okoli had big touchdowns for the team throughout the game. An officer also got in on the scoring action to create a bigger lead. "My favorite part was getting to know the cops and seeing my Seneca friends," senior football player Steven Mendez said. "It was fun."
The Seneca Valley and Germantown police officer team did not go away quietly as they dropped 35 points and had several electrifying plays. A really fun but intense rivalry was brewing at The Den. Junior football player Salekri Sayeh had an interception for the 'Rines late in the game that put the cherry on top of a sweet victory.
Sayeh said his favorite part was "being able to play our rival team without the game being too serious. We were just having fun." He also suggested making the game a tournament-style event where more schools and police officers could get involved. Sayeh added, "Maybe students will show officers more respect [and vice versa]" because of the game.
Fans and players both enjoyed the game and had a wonderful time despite the cold weather, and both sides expressed that they would like to see this become a tradition to achieve unity in the community.

Hits : 891
About the Contributors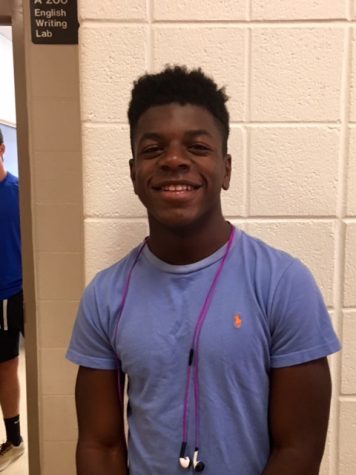 Hezekiah Likekele, News Editor
Hezekiah Likekele is a junior writer for Watkins Mill High School Current. He is primarily a sports writer but can also be a great addition for news and...