Gaithersburg alumna publishes debut novel: Seton Girls
Gaithersburg High School alumna Charlene Thomas recently published her debut novel, Seton Girls, that follows characters who uncover insidious secrets about how their school's football team has remained undefeated for years.
Seton Girls is a story of platonic love and "the power of finding soulmates within your best friends and what it means to sort of choose one another above anything else," Thomas said.
Growing up in Montgomery County, schools in Maryland inspired Seton Academic High, the school where the book takes place.
The main girl group in the story is reflective of Thomas' friends in high school and the feeling of what her friendships were like.
Thomas also drew inspiration from the conversations taking place in the world today, including the #MeToo movement and varying levels of privilege in society.
"Privilege can scar and bruise the ones who don't have it if it goes unchecked for too long," Thomas said.
After high school graduation, Thomas realized Montgomery County Public School's (MCPS) diversity in socioeconomics, race, and religion was not always reflected in other places.  In MCPS, there are students who form friendships across varying levels of class.
There's a natural acceptance in the story that Black and brown kids "are the cool kids. They're the popular kids. They're the smart kids. They're the kids that people want to be around," Thomas added.
"I wanted to showcase a story where the main characters were Black and brown…and showcase them being the leads…without it being the point of the story," Thomas said.
"As minorities, it can be very easy to see ourselves cast in sort of these sidekick type roles. And we're not," Thomas added. "We're stars. We have our own beautiful stories. We have our own amazing power and [it] was really important to me to set that up for characters in this story as well."
Seton Girls reminds readers that they can act and inspire others, even if they feel they are not making a difference.
Thomas wanted to develop characters who represent a spectrum of right and wrong and the story exists in a space of grayness. "We live in this reality where things aren't black and white," Thomas added. We're "kind of operating in this very gray space and I think that's really reflective of the world that we live in today. The conversations and feelings that we're having are extremely complicated [and] complex. I don't think that there are easy, right, or simple answers to a lot of what people teens and adults alike are facing."
"The girls are nouns on their own," Thomas said. "They have their own stories to tell and when people would walk away thinking about them over any sort of romantic subplot thing is what I set out to do."
Thomas was able to write a book that combined Black and brown leads, addressed issues of privilege, and mirrored high school dynamics similar to ones she grew up in.  "I just feel really fortunate that all those sorts of yearnings fit into this book," Thomas added.
Hits : 858
Leave a Comment
About the Contributor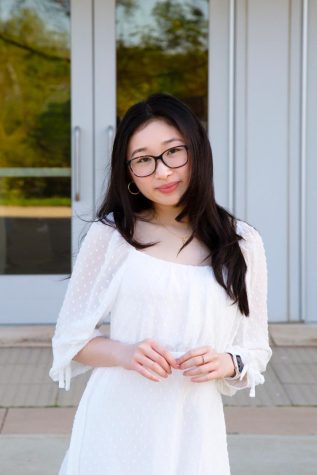 Ashley Huynh, Editor-in-Chief
Ashley is an IB Diploma senior at Watkins Mill High School and Co-Editor-in-Chief for The Current, who adores books and calligraphy.  She is President...