Senior Reflection: Kayla Holt
As I am writing this, Mrs. Confino is telling seniors to submit our reflections as fast as possible. While I am trying my best, it is difficult to write about the most chaotic four years of my life.
How do I summarize in a few sentences how I went into high school naïve and simple and left with a completely different perspective of myself and the things around me? How do I properly reflect on the time that changed my life?
The biggest thing I look back on when it comes to my high school experience is how I didn't protect myself as much as I should've. I have a big heart and I feel deeply, so I gave a lot of myself to people who didn't need or deserve it. I faced a lot of obstacles and endured a lot of losses- some silent, others loud. Nobody tells you that the reality of high school is that the things you came in with will be the things that leave you the quickest. I wasn't prepared for that.
Nonetheless, with pain follows beauty and with each loss I received a bigger gain, whether it be a new friend or a safe place. Mrs. Confino's classroom gave me a safe place that I could always count on. A place where my tears were 100% okay no matter why they came. Mrs. Confino did not have to give me her time or love the way that she did. I wasn't just her student, she cared about me, she was invested in me and was willing to do anything for me. Her compassion, warmth, and high spirit spread through her class and made it a place to smile. Thank you Mrs. Confino so much for the things you did for me, I became a good writer but more importantly I became a better version of myself. A version I now love and want to take care of. I love you so much.
My favorite year was junior year. I like that year the most because it was the year I finally decided to fight for myself. The year where I was going to give more to myself than to anybody else. I had the smallest group of friends, I worked hard in every class and I took the time to spend more time loving the things around me. I still experienced losses but instead of wallowing in them I looked at only the beauty inside them. I became smarter, happier, and stronger. Now I am wrapping up this crazy experience with the biggest smile I have ever had.
If I could give any advice to a freshman right now it would be that the staff at Watkins Mill is there for you. I have had so many staff members look out for me in ways they didn't have to. From talking to me in the hallway about my feelings to pushing me on the track even if I didn't want it. Teachers and coaches only want the best for you and will bend their backs to give that to you. I am a firm believer that there isn't another school with that kind of spirit. I appreciate every staff member who put their time into me because it was a choice.
I wouldn't say I am sad to leave Watkins Mill. I feel ready to take all the things I have learned and experienced into the new chapter of my life. The next four year of my life at Morgan State University will bring a new kinds of pain and beauty and I am so excited for it, but before I became a Bear, I was a Rine and for that, I thank you.
Hits : 2149
Leave a Comment
About the Contributor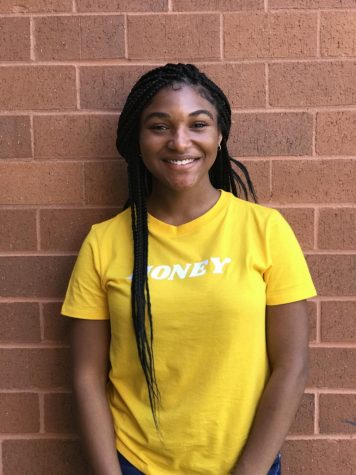 Kayla Holt, Opinion Managing Editor and Social Media Director
Kayla Holt is the Social Media Manager and Opinion Managing Editor for The Current. She is an athlete for the indoor and outdoor track team for Watkins...