Opinion: override Hogan's veto on Blueprint. Make educating future generations a priority
As the coronavirus pandemic rages and exacerbates major racial inequities in Maryland education, the current state legislative session is proving to be more pivotal and potentially instrumental in determining Maryland's future.
Allow me to present Case Study 1, set in March 2020. School A is 81.4% Black and Latinx, 7% White student makeup, with a predominantly white staff. It has the highest poverty rate in the county. It struggles with central air and heating, which enables respiratory sickness during the winter and spring months.
School A resides in District A. Homeless people on the side of the road are normalized and ignored. Frequently, School A borrows materials, books and assignments from the more affluent and White school, School B, in a city that is just 30 minutes away in District B. While School A is a regional International Baccalaureate school with career-related programs and advanced courses, School B has more advanced college-ready programs with a wider collection of classes and IB electives for students.
School B uses more current technology, better quality of fine art resources, better filtration and cleaner infrastructure that promote quality of health throughout the building. Students from the "feeder" middle schools in School A apply to more prestigious high schools in District B and are often denied admission because of the inadequate study material, educational resources and the absence of opportunities.
I was one of those students.
Allow me to present Case Study 2. The previous conditions in Case Study 1 should be applied to Case Study 2. Case Study 2 takes place during the 2020-2021 school year, in which classes have been moved to a virtual learning platform, due to a pandemic. During this school year, one of the IB career-related programs at School A was dissolved, due to low enrollment. It has since been reduced to a single course, as opposed to a program with a paid internship/job and certificate. Several other IB electives and courses were also dissolved.
School B continues to have a wide variety of courses, and extra support. In both schools, teachers and students bear a psychological strain due to a lack of educator well-being, resources and support.
Case Study 2 is reflective of many schools in Montgomery County, and other counties in Maryland, with high poverty rates.
While virtual school has been difficult for everyone across the board, it is becoming more evident that Maryland education was not set up to serve low-income students and students of color. In 2015, The Baltimore Sun reported that the state of Maryland slipped from its admirable and long-standing national No. 1 public education ranking because of a change in criteria, focusing on "school financing, achievement and the 'chance of success' for a child born in each state — based on factors that include preschool enrollment, high school graduation rates and parent education."
While Maryland might still be one of the top-ranked states in the nation in regard to education, Gov. Larry Hogan's veto of the Blueprint for Maryland's Future is a gross disappointment and a step toward a crumbling and mediocre education for underperforming students, who are predominantly Black and Brown.
This is coming from a state that prides itself in believing that "… every child in Maryland [should] deserve a world-class education, regardless of what neighborhood they grow up in," as Hogan once said.
With the 2021 legislative session underway, I urge Maryland state leaders to override Gov. Hogan's veto on the Blueprint. This Blueprint is essential and will provide necessary support for our vulnerable and marginalized young students who need it the most, not just during a viral pandemic, but during a normal and regular school year.
This is especially true when Maryland is already weak in areas of early childhood education, career and technical education, and equity and racial justice, areas the Blueprint will address. The Blueprint is an auspicious step in the right direction, particularly as COVID-19 exacerbates these inequities.
Children in elementary school should not have to wake up each morning erroneously believing that their run-down schools and shortage of supplies are normal. Students should not have to study for exams with inadequate materials believing that they don't have the potential to succeed. Young adults should not grow up knowing that their ZIP code determines their quality of education, health and well-being.
It's not supposed to be like this. When will the future of the next generation be considered a priority worth investing in?
This story was originally published on Maryland Matters on February 1, 2021. Since then, the Maryland Senate overrode Governor Hogan's veto on the Blueprint for Maryland's future in a 95-37 vote on February 8, 2021, and as of February 12, 2021, it is a law. 
Hits : 1342
Leave a Comment
About the Contributor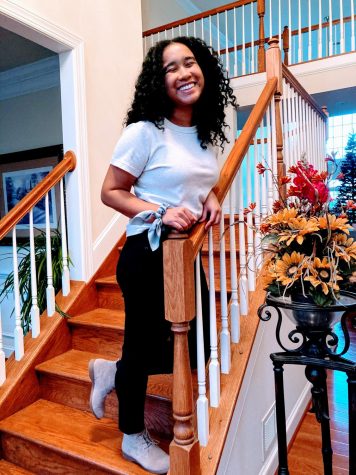 Grace Edwards, Editor-in-Chief
Grace Edwards is a senior at Watkins Mill High School and Co-Editor-in-Chief for The Current. She is a straight-A student who enjoys playing her violin....