Booster club lifts seniors' spirits with class of 2020 signs
As the COVID-19 pandemic made seniors anxious about whether they would actually walk across a stage at graduation,  the Watkins Mill booster club posted signs around the community to appreciate, recognize and support the seniors during this difficult time.
"After talking to seniors [about quarantine], the general consensus was they felt like they were robbed… and they feel invisible. They feel like nothing is happening for them," booster club president Rebecca Castillo said. "I felt compelled. I [didn't] want anybody to feel like they [were] missing the most important moments of their high school lives."
Castillo and her husband spoke to athletic director Reggie Spears, who mentioned that Quince Orchard High School made signs to place in front of each senior's home. Because there are over 300 seniors at WMHS, Castillo decided to place signs in the surrounding communities and in front of the homes of seniors who signed up for the booster club prior to quarantine.
"Before [we started making the signs], I went to the board members and asked them what they thought about it. It was unanimous. Everyone wanted to do it," Castillo added. For her team's safety and to avoid cross-contamination, Castillo and her husband put up all of the signs themselves and avoided contact with any seniors they surprised.
Senior Nadia Makmak received a sign in front of her home because she had been an active member of the booster club. "I teared up a little and so did my mom. I wasn't expecting it and it was so kind, especially because I was thinking about how much I was missing senior activities and my friends," Makmak said.
Castillo encouraged students to take a sign home if they would like. "What I want is for [people] to see them around town, and in their neighborhoods. If they wanted to take one, take it," Castillo said.
Castillo plans to continue making senior signs for years to come. She has also received questions from other schools and PTSAs, asking how they can do something similar in the future. "It's been such a success because people have been tweeting it and sharing it on Facebook and Instagram," Castillo added.
"I think [the signs] were impactful because it reminded us that teachers and staff are still looking out for us and thinking about us during this tough time," Makmak added.
Castillo also thanked the printing company that helped them design and print the signs on short notice. After the first set of signs were put out, they immediately ordered another set to cover more of the community.
"We're all going through the same things. We're all in this together. We're all quarantined," Castillo said. "I think it was a nice little surprise for them."
"I was really missing all my friends and [I was] sad because things like prom and graduation might get, or already are, canceled," Makmak said. "But this was a nice gesture that let me know they are still trying to make our senior year great, despite the circumstances."
Hits : 1646
About the Writer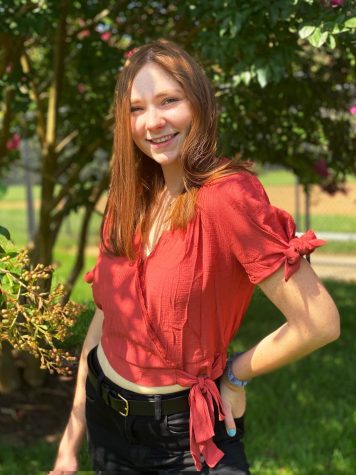 Katelyn Burley, Editor-in-Chief
Katelyn "Katie" Burley is a senior and the Co-Editor-in-Chief of the Watkins Mill High School Current. She is in the IB Career Program for Early Childhood...