New initiative calls for students, staff to 'Be Well' all year
Leah Niles, Amelia Burton, Caleb Vargas, and Jonah Graham
Montgomery County Public Schools Superintendent Jack R. Smith implemented a new initiative called Be Well 365 this year, which promotes students to learn more about themselves and peers as well as connect with their teachers.
There are six essential topics for this upcoming school year. The first topic was Cultural Responsiveness and Relationship building, which students participated in on Friday, September 20 during homeroom. Junior Zoe Luckabaugh said, "I learned just how diverse our culture is at Watkins Mill and even people of the same ethnicity have different cultures within their own families."
Students will continue the Be Well 365 initiative by learning about and discussing the following topics throughout the school year:
Mental and Emotional Health
Trauma Informed Practices
Restorative Justice and Practices
Physical Health and Wellness
Character Education and Empathy
"I'm really looking forward to the trauma and care unit because so many of our students have experienced [something within that topic] and it will help me connect with my students so that I can do my job better," English teacher Richard Courtot said. Students engaged in an activity in which they read aloud statements about traditions in their cultures and shared whether they agreed or disagreed with the statement to compare their different cultures.
The lesson also included a powerpoint presentation and videos from TedTalk to inspire students to embrace their culture and to promote cultural enrichment. "The goal of school is to prepare students for what comes next," Courtot added, "this way they learned about how society meshes culture together and it's important for them to recognize what role they play in that."
Social studies teacher James Archer said, "I personally learned that I need to pay attention to the cultural and environmental needs of my students."
The future of Be Well 365 looks promising because many students and staff gained knowledge about themselves and others. With more topics to come, the Montgomery County Public School community will be able to learn more about emotional health, physical health, ethics,  and identity.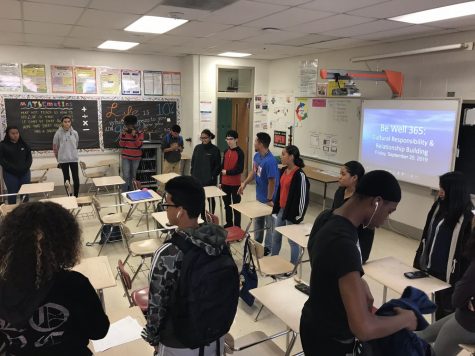 Hits : 2519