Former Wolverines spread knowledge with alumni network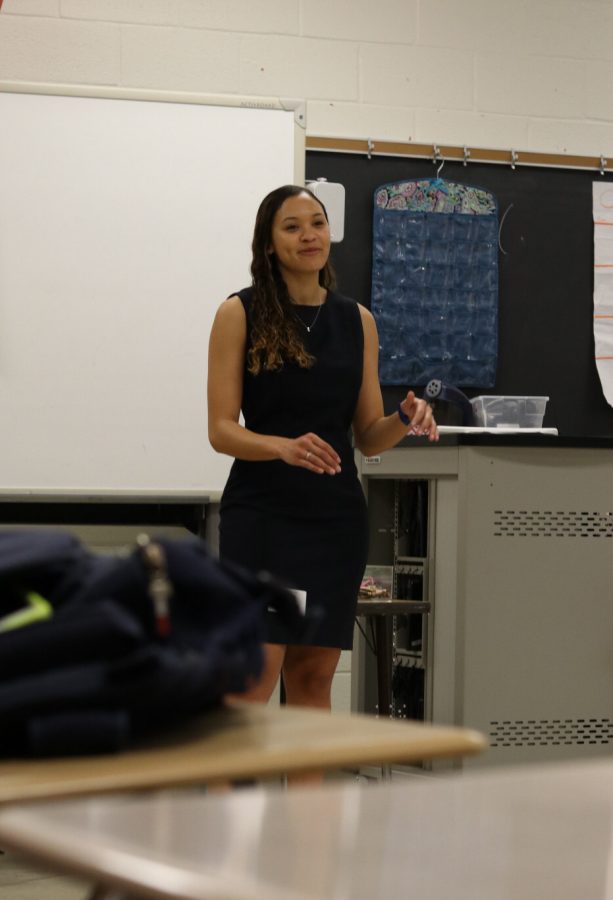 Watkins Mill High School alumni are looking to build a connected network with both staff and students in order to assist the school in all aspects of the education process.
Class of 2012 graduate Jasmine Williams helped organize the former Wolverines to create a group to help current students both in the classroom and in their future careers.
"They want to make sure that the students here have lots of options when they graduate and have support as they figure out their plans to go to college," resource counselor Adam Saltzman said. Saltzman worked with Williams to introduce the alumni network to Watkins Mill staff and students.
Together, Saltzman and Williams planned last week's Career Day, featuring many former Watkins Mill students showcasing their careers and what they have achieved after graduating. This gave students an opportunity to see what it would be like to pursue a certain career.
The day featured Watkins Mill alumni from a variety of career paths moving from class to class, teaching students what it takes to enter their field.  Since it was the first of its kind, the day was short and the alumni were unable to reach every student which Saltzman and Williams look to change for future Career Days at Watkins Mill.
Williams' idea came from her desire to help around in Watkins Mill. She reached out to some people she graduated with and they began working. "They were all incredibly supportive and helped me start planning right away," Williams added. "I shared my idea on social media to see if any other alumni would be interested and received an overwhelming response."
The network also plans on providing counseling and tutoring to students as well as planning further events to help jumpstart their careers.  "We hope to establish a pipeline that helps to grow the Watkins Mill community," an alum said.
With an emphasis on students and the community, Saltzman and Williams will  focus on the network, helping students by giving them experienced graduates to provide some help.

Hits : 1202
About the Writers
Alex Wright, Sports Editor
Alex Wright is a Sports and News Editor at The Current. He is a junior and this is his second year writing for the paper. Writing has always been a strength...