Sophomore English classes follow podcast instead of book, enjoy assignment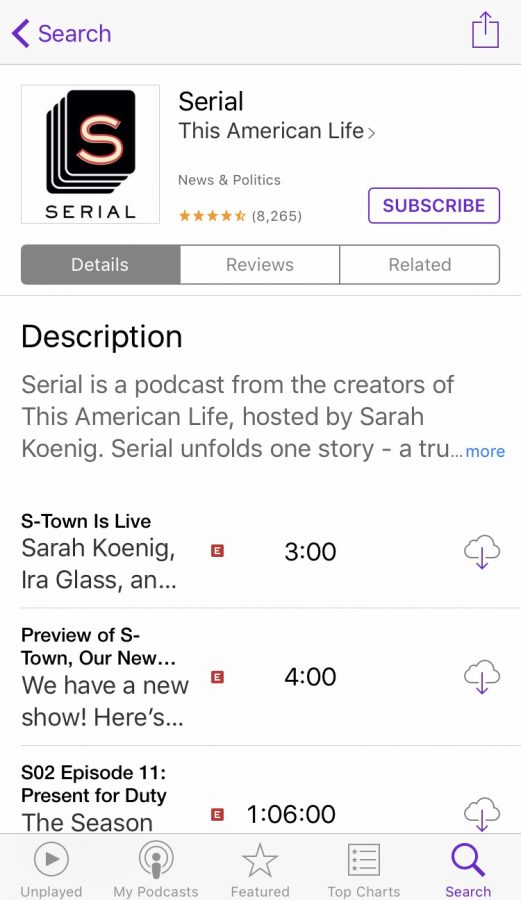 "This is Serial. Told one story from another week by week. I'm Sarah Koenig."
These are the words that start in each episode in the online podcast, Serial. Watkins Mill High School sophomores got to listen to the first season of the podcast in English class, which is about a high school senior, Adnan Syed, convicted of murdering his ex-girlfriend, Hae Min Lee, in 1999 in Baltimore, Maryland.
English resource teacher Wendy Farmer was introduced to Serial by a former English resource teacher at Montgomery Village Middle School. Farmer binged listened to the first season of the podcast two years ago. "I figured let's try it,' Farmer said. This is the second year that sophomores are listening to Serial in English classes.
Before Serial was added to the curriculum, students would learn about Common Core and PARCC Testing. One of the places on the PARCC was listening. "Whether we're listening to a speech or listen to a podcast it's usually a neglected piece of subject," Farmer added.
Sophomore Jwoyal Ranjit found the podcast interesting until the end. "[The podcast] didn't tell us if he did it or not," Ranjit said. Ranjit would  listen to the podcasts again and would recommend others to listen to it as well.
"It's interesting to listen to see what's actually true," sophomore Viviana Esparza said. Esparza had always had an interest listening to Serial since the beginning of the semester. She prefers listening to podcasts than reading books. Sophomore Josephine Oshagbemi said she prefers reading books, but would listen to the podcast while reading transcripts.
"It's interesting to talk about," Oshagbemi said. At first she was annoyed about listening to Serial because of the vocabulary they had to do, but found interesting to an extent. Oshagbemi wouldn't listen again, but if there was more information about Syed, she would listen to it a second time.
Farmer believes that it's important, as a skill, to listen to Serial. "There's a lot that kids can learn from listening to Serial," Farmer said. You can download episodes of the podcast on your phone or listen to it online.

Hits : 1047
About the Writer
Aisha Sowe, Associate Editor
Aisha Sowe is a senior and an Associate Editor for The Current.  Aisha has been writing articles for the school newspaper since her sophomore year. After...