Spirit week kicks off spring sports season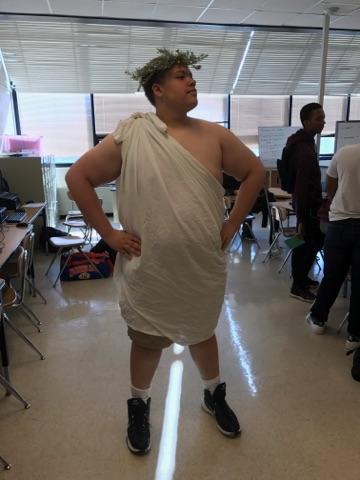 Hang on for a minute...we're trying to find some more stories you might like.
Watkins Mill High School's spring spirit week is in full swing this week. Show your school pride by dressing up according to the theme of the day.
This spirit week leads up to the spring sport pep rally scheduled for March 24, where students will gather to show their Wolverine pride. "[Spirit week] is to just change it up and do something different and have a little fun," Orange Nation sponsor and science teacher Matt Johnson said.
Every day of this week has a different theme for students to dress up to. Monday was "Maryland Weather Monday," which students and staff dressed up for to show Maryland's crazy weather by wearing clothes from all four seasons in one outfit.
Tuesday was "TV and Movie Character Tuesday." For this theme, students and staff dressed up as a character from any TV show or movie they wanted to.
Wednesday was "Woke Up Like This Wednesday." "[Pajama day] is everyone's favorite," Johnson said. Johnson likes pajama day so much because he "[wants] to see as much spirit [he] can in the building."
Today is "Throwback Thursday," in which students "dress like [they] live in [their] favorite decade." Johnson's tip is to: "Try your best to be creative."
And finally, tomorrow, March 24 is simply "Spirit Day" in which students wear the school colors, orange and blue, to show school spirit. "We are one Watkins Mill," Johnson said. "[Spirit week is] an easy way to get involved with school. Show your spirit, have some fun, and laugh at one another."
"I dressed up all week because I wanted to show the spirit of Watkins Mill," freshman Nicole Gonzalez said.  Gonzalez thinks there should definitely be multiple spirit weeks a year because "not only is it a way of showing spirit, but you also get to create and make memories, which is what high school is all about." 
Spirit week will conclude with tomorrow's spring sports pep rally. This pep rally will include performances from OLAS, K-pop, chambers, band, cheer, poms, and even more. There will also be giveaways and important information about a new Watkins Mill event, "Rock the Block."