Quick, Easy Holiday Recipes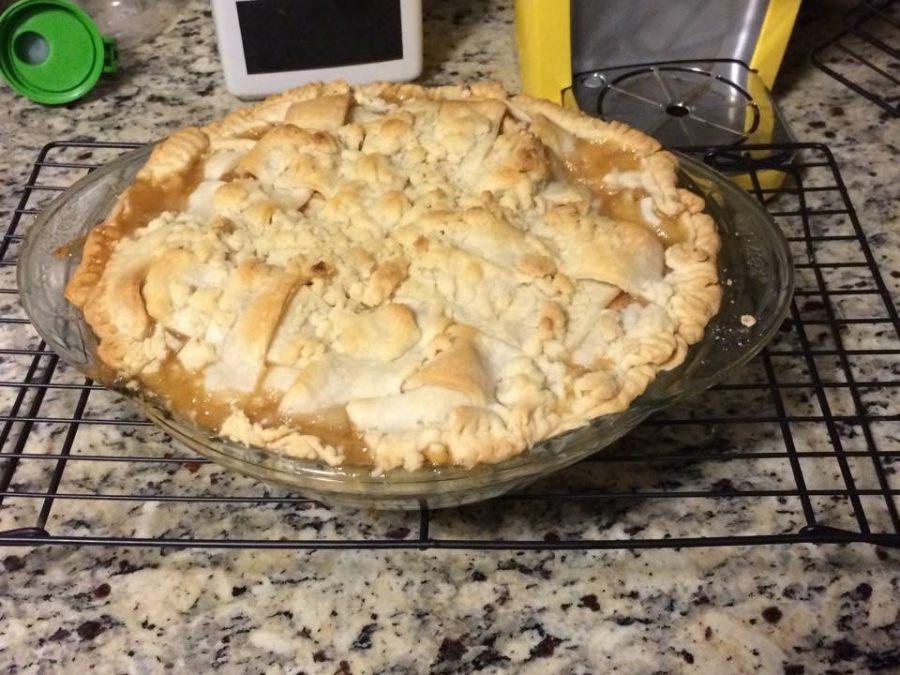 Now that Thanksgiving is over, it's time to get ready for the Christmas feasting. Whichever holiday you're celebrating, the feast is major. A few students and teachers shared some quick and easy holiday recipes.
Dirty Rice 
Social studies teacher Sandy Young shared her recipe for one of her Holiday favorites to her family, dirty rice, also known as rice dressing. "My family enjoys this meal because it's a traditional Creole meal in south Louisiana. It is made for Thanksgiving and Christmas," Young said.
"It's a family effort to chop all of the vegetables and everyone has to taste to make sure the seasonings are just right. It's not a holiday if there is no rice dressing," Young added. "You can also use the same meat mixture and add it to cornbread to make cornbread dressing.
Makes 12 side-dish servings
Ingredients:
4 tablespoons vegetable oil
1 pound ground chicken gizzards
1/2 pound ground pork
4 bay leaves
Salt and Pepper to Taste
"The Trinity"
1 cup finely chopped diced onions
1 cup finely diced celery
1 cup finely diced green bell peppers
½ cup of parsley
4 teaspoons minced fresh garlic
4 tablespoons unsalted butter
3 cups of cooked cup uncooked rice
2/3 pound ground chicken livers
Directions:
Place the oil, gizzards, pork and bay leaves in a large, heavy skillet, preferably nonstick, over high heat and stir well.
Cook, stirring occasionally, until the meat is thoroughly browned, about 7 to 10 minutes. Then add the onions, celery, bell peppers and garlic.
Stir thoroughly, scraping the skillet bottom well, and add the butter and stir until melted.
Reduce the heat to medium and cook, stirring constantly and scraping the skillet bottom well, for 4 minutes. Set aside.
Cook the rice separately, Stir in the chicken livers, cover the skillet, and reduce the heat to very low. Cook for at least ten minutes. Set aside until it's at room temperature.
Remove bay leaves.
In a large bowl, empty some of the rice. Gradually add in the meat mixture. You have to judge how much rice and how much meat mixture to put in. You don't want it to be soggy.
Stir in parsley with the rice and meat mixture as well. So always add more rice before adding more of the meat mixture.
Bacon-Wrapped Asparagus Puffs
English teacher Scott Tarzwell shared a quick and easy recipe for bacon-wrapped asparagus puffs. The key to this recipe being quick and easy is the store-bought Pillsbury Crescent Dough. Tarzwell suggests dipping them in cranberry relish.
Ingredients:
Asparagus spears
Bacon strips
Pillsbury crescent rolls
1 egg
Salt
Pepper
Directions:
Preheat oven to 400 degrees
Trim bottom ends of asparagus spears and rinse
Cut bacon (any brand or flavor is fine) strips into half vertically (you want long skinny strips4) Wrap one cut bacon strip around one asparagus spear leaving approximately ½ inch of green showing (that will be for the crescent rolls)
Open one package of crescent rolls (don't be afraid of the pop)
Roll out crescent roll dough
Cut strips of dough (just like you did with the bacon) and wrap around asparagus spear where green in showing. (As you look at the spear, it should alternate between bacon and dough)
Crack the egg into a small bowl and add a little water.
brush all asparagus spears (dough and bacon) with egg wash (this will add glisten to final product, and allow a place for salt and pepper to stick)
add salt and pepper
Into the oven for 15-20 minutes, being sure to check spears at approximately 10 minutes in (I rotate mine)
Take out of oven and enjoy.
Scrumptious Apple Pie
English teacher Christopher Smith shared a classic recipe, apple pie. He recommended the Double-Crust Pastry from the Betty Crocker Cookbook, but you can use store bought pie crust to make the recipe easier. "If you're thinking of making this pie, the apple selection is also critical," Smith added. "My family has almost exclusively used Johnathan apples."
Ingredients:
Double-Crust Pastry
1/3 to 1/2 cup sugar
1/4 cup Gold Medal™ all-purpose flour
1/2 teaspoon ground cinnamon
1/2 teaspoon ground nutmeg
1/8 teaspoon salt
8 cups thinly sliced peeled tart apples (8 medium)
2 tablespoons butter or margarine
Directions:
Heat oven to 425ºF. Prepare Double-Crust Pastry.
Mix sugar, flour, cinnamon, nutmeg and salt in large bowl. Stir in apples. Turn into pastry-lined pie plate. Dot with butter. Trim overhanging edge of pastry 1/2 inch from rim of plate.
Roll other round of pastry. Fold into fourths and cut slits so steam can escape. Unfold top pastry over filling; trim overhanging edge 1 inch from rim of plate. Fold and roll top edge under lower edge, pressing on rim to seal; flute as desired. Cover edge with 3-inch strip of aluminum foil to prevent excessive browning. Remove foil during last 15 minutes of baking.
Bake 40 to 50 minutes or until crust is brown and juice begins to bubble through slits in crust. Serve warm if desired.
Easy Lo Mien
Junior Sabrina Santamaria shared a nontraditional vegetarian lo mien recipe to bring to the table. "It had really basic ingredient," Santamaria added. "It had a tasty flavor because sometimes some vegetarian foods are a little plain, but this recipe had a nice flavor, didn't take long to make, and fills you up."
Yield: 4 servings
Prep time: 10 minutes
Cook time: 15 minutes
Total time: 25 minutes
Ingredients:
8 ounces lo mien egg noodles
1 tablespoon olive oil
2 cloves garlic, minced
2 cups cremini mushrooms, sliced
1 red bell pepper, julienned
1 carrot, julienned
1/2 cup snow peas
3 cups baby spinach
FOR THE SAUCE
2 tablespoons reduced sodium soy sauce, or more, to taste
2 teaspoons sugar
1 teaspoon sesame oil
1/2 teaspoon ground ginger
1/2 teaspoon Sriracha, or more, to taste
Directions:
In a small bowl, whisk together soy sauce, sugar, sesame oil, ginger and Sriracha; set aside.
In a large pot of boiling water, cook noodles according to package instructions; drain well.
Heat olive oil in a large skillet or wok over medium high heat. Add garlic, mushrooms, bell pepper and carrot.
Cook, stirring frequently, until tender, about 3-4 minutes. Stir in snow peas and spinach until the spinach has wilted, about 2-3 minutes.
Stir in egg noodles and soy sauce mixture, and gently toss to combine.
Serve immediately.

Hits : 599