Lady 'Rines show off their football skills in Powder Puff game
Hang on for a minute...we're trying to find some more stories you might like.
Watkins Mill's Powder Puff 2016 is up and running yet again after a three-year drought and didn't fail to disappoint… unless you were a senior or sophomore.
Lady Wolverines from all grades laced up their cleats and hit the gridiron on November 2 to show off their football skills to their friends and family.
The senior and sophomore classes (Pink Team) paired up to take on the junior and freshmen classes (Blue Team). The exciting game ended in a win from the juniors and freshman 14-8, including a late touchdown from junior soccer player Aaron Dunkins to give the Blue team the lead.
Junior soccer player Cameron Moore followed the touchdown up with a field goal to put the icing on the cake for the blue team. "I felt excited because there was not a lot of time left on the clock, so I knew we had it in the bag," Moore said after making the big kick.
Junior field hockey player Katherine Campbell said, "It was a lot of fun. It was cool to be able to play a 'new' sport, because I've never done it before so it was fun to see how it went and play."
Early on in the game, senior soccer player Samantha Whipp ran for a big gain to set the pink team in scoring position. The lone pink team score came from senior soccer player Emma Buck.
Coaches and players alike both seemed to get a kick out of the game. "It was a lot of fun, it was very interesting to see them in a more serious setting because I [don't usually see them like that]," senior Jessica Burgos said.
Senior coach Leo Molina  added, "It was a lot of fun, we had so much fun because, you don't see girls playing football all the time so when I get to coach them and stuff, it made it a lot more fun."
Junior coach Michael Smith did not hesitate to tell the seniors that "if they want a rematch, they know where to find us."

Hits : 436
About the Writers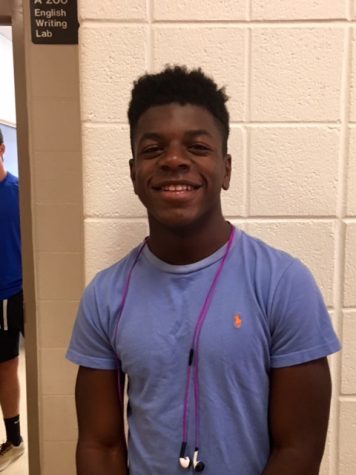 Hezekiah Likekele, News Editor
Hezekiah Likekele is a junior writer for Watkins Mill High School Current. He is primarily a sports writer but can also be a great addition for news and...