Wolverines raise over $32,000 for student's new wheelchair
In four months, our school and community has raised $32,325 for senior Ibrahim Samia's new wheelchair. Samia was born with athetoid cerebral palsy, and this wheelchair will replace the one he has and help him become independent.
The Lollipop Kids foundation donated a used wheelchair to Samia five years ago, when he first came to the United States from Nairobi, Kenya.  He is now 19 years old and has outgrown  the chair he has been in since he was 14, which has been a cause of much of his pain and discomfort.
"He needs [a new wheelchair], he deserves it, and given his situation, he's one of the most positive people I know," biology teacher Matthew Johnson said.  Samia's situation and positivity are what motivated the special education department's Learning For Independence program and Johnson to start the fundraiser last year and get it to where it is now.
The fundraiser began as a bake sale in May when the goal was only $8,000 for a used wheelchair frame with upgrades, but that only raised $170.  However, the initial goal was eclipsed over the summer after the first video of Samia's story was posted on YouTube and Facebook.
"I'm impressed and I'm touched by the generosity of the general public and of the school community,"  Johnson said.  "With all the negativity in the world and the news… you start believing in humanity again [when] you see something like this."
Johnson decided to increase the goal to $25,000 after the fundraiser quickly grew into a successful campaign through the "Chair4Ibra" GoFundMe, the second video on Youtube — created by professional photographer Lee Emmons and his company AP Media — and the Facebook pages showing support.
With the overall $32,325 raised, Samia will now get a brand new custom wheelchair for $25,000, equipped with a head array that will allow him to steer the chair by moving his head.  The rest of the money will contribute to Samia's future health care needs.
Keeping the fundraiser going, this Sunday the Kentlands Square Hair Cuttery will be hosting a "Cut-A-Thon."  They will offer a haircut and shampoo from 7pm to 9pm, and 100 percent of the funds collected will be donated to the fundraiser for Samia.
Junior Brandon Rodriguez sent emails to channels four, five, seven and nine so the campaign could get more publicity, and he was successful when NBC 4 and WUSA 9 both replied, and came to interview Samia on September 16. "I felt really good because as a Watkins Mill community we came so far," Rodriguez said.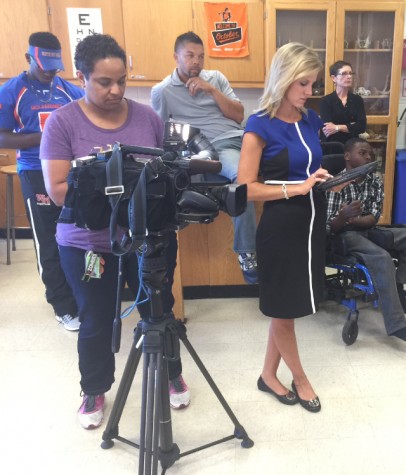 Senior Clarence McNeary was one of the students who also supported the cause by spreading the story on Twitter and Instagram, and getting over 8,000 views.  "[Samia's] spirits are uplifting," McNeary said.  "He just deserves someone to help him out."
On October 6, principal Carol Goddard, Rodriguez, McNeary, Johnson and Samia went to the Montgomery County Council in Rockville to be recognized by Council Member Craig Rice.  Rice awarded Samia a proclamation that celebrated the community's efforts and the fact that the goal was reached in so little time.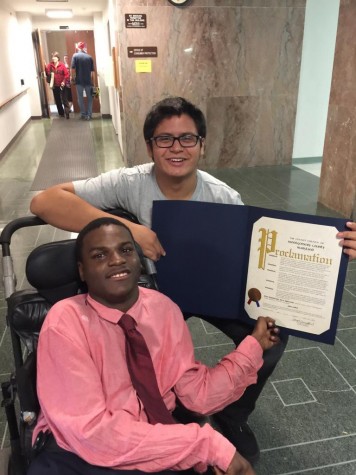 Samia's family did not have the resources to provide him with a new wheelchair.  The school agreed to help because "It's for a great cause," Goddard said. "There was no way that [Samia's family] could afford it."  Now he can get a job and have freedom over what he does.
Samia is very happy that people are looking out for him, but does not like all of the attention.  When the set goal was hit Samia said to Johnson, "This should stop. I don't want to use people." Johnson reassured him that people were supporting Samia because the story gave them hope and inspiration, not because they were forced too.
Samia's paraeducators Michael Brown and Betty Alberti have been huge helps as well as NBC 4's Melissa Mollet, who has been checking up on Samia and even trying to get the family a van.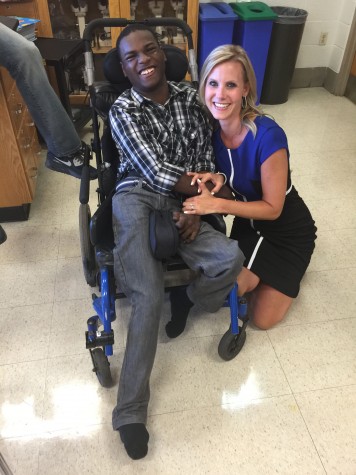 WJLA 7 is also scheduled to come do a story on Samia and the fundraiser once he gets fitted for his new chair, and the story will later be featured on WJLA's Leon Harris' Heroes.  The chair should be fitted by the end of the month, have an order placed by November, and should be here in December.
Johnson added, "I wanted it to get to Ellen [Degeneres]," and he still thinks it can. After seeing the success of the "Chair4Ibra" campaign, anything is possible.
Hits : 3900