Boys soccer jousts with Knights in tomorrow night's tournament
Boys soccer looks to pick up their third win of the season tomorrow night, against the Wheaton Knights. The team is coming off of a tremendous victory on September 13, and they look to maintain that same winning mentality. 
In a girls-to-boys double header, the boys played a great game against the Springbrook Devils last Tuesday. Senior goalie Edward Huebner had a clean sheet, with no goals allowed. The goals were scored by seniors Gianfranco Castillon, Jojo Cann and Walter Gomez.
Gomez had two goals to bring the total to four. With students showing support in the stands, Orange Nation continued to show out and display their newfound Wolverine spirit. The team got off to a slow start but picked it up quickly on the way to victory.
The boys soccer team came into 2016 season with high expectations,  great energy and a drive to win. The team knew exactly what they wanted to improve upon. "We want to work on our technique, like special plays we do," junior goalie Axel Palma said. The team knew the only way they wanted to end the season was as state champions. "The goal is states, state champions, we have to work hard to get there," junior Yann Kouemi said.
The season opened in front of a great and lively crowd against the Damascus Swarmin' Hornets. The boys won the game 2-1. The score may have seemed close but our boys dominated on the field. Both goals were scored by senior Daniel Juresic. "We passed and communicated very well," senior Victor D'Almeida said. "We need to work on our temper and control."
After the first goal was scored, the crowd went wild, loud red horns were heard throughout The Den. The boys soccer team ran to the crowd and celebrated.  Huebner had some key saves to contribute to the victory.
With Dematha Catholic High School and Walt Whitman High School losing this week, our boys are now ranked number two in the area, only behind Meade High School. Senior Andy Alvarado said, "I expect us to keep working so we can keep going." Expect this team to go very far into the 3a playoffs this year and give every team who challenges them a hard time.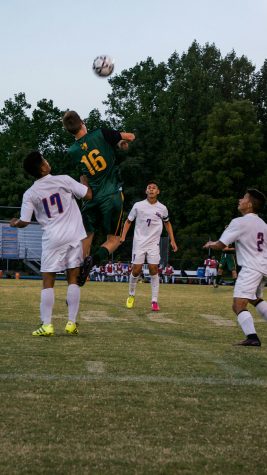 Jonathan Trejo Perez
Hits : 1505