Teachers appreciate July more after working terrible summer jobs as teenagers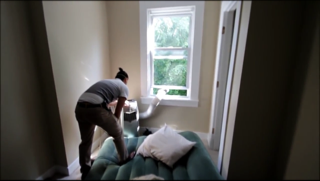 Summer!
No school, sunshine, the pool, the beach, and… no money.
No one wants that last part, but for high school students summer jobs are often the worst part of summer break. Some Watkins Mill teachers experienced the worst of these summer jobs, before becoming educators.
Watkins Mill drama teacher, Scott Tarzwell, worked one of these dreaded summer jobs. As a senior in high school, Tarzwell worked at McDonalds. "My boss was a fellow high school senior so he loved making us work constantly," Tarzwell said.
Tarzwell worked at the fry station, which caused him to break out. "I was completely embarrassed," Tarzwell added. Tarzwell eventually left the job and went on to work at a retail clothing store.  
Government teacher, Michael Celenza, worked at a restaurant in Ocean City as a cook. "Every night we were basically slammed with people and no one knew what they were doing because it was a new restaurant," Celenza said. "I didn't get the hang of being a cook until three months after." 
Celenza worked for nine hours a day cooking food and ate way too much while he worked.  "Being next to fries all day is just a disaster for your body," Celenza said. Celenza did learn patience at the job, as with time he got better at it. He eventually left to come teach at Watkins Mill. 
Redoing a home is never fun. The heavy lifting, the messiness, and the precious time needed just isn't a pleasant experience. Photography teacher James Wu spent one summer redoing his friend's house. "One of his tenants had left the place thrashed. Apparently he was growing weed in the attic," Wu said. Wu spent the whole summer painting, picking up trash, and clearing out carpets. He was covered in dirt, mold, and building materials the whole summer.
Working in the heat, heavy lifting and rude customers don't help the summer job experience. Science teacher, Matthew Johnson worked for Beltway Moving Company. "I started at a job in Germantown, nothing was packed, [we] had to pack everything," Johnson said.  After packing and loading the truck, the actual move began at 3pm, and didn't wrap up until 1am. Johnson got home close to 3am and had to be back at work for the next move at 5:30am. But, Johnson's long hours of work paid off when he left for the University of Maryland at the end of the summer.
The variety of absolutely awful summer jobs has made these Watkins Mill High School teachers appreciate the work they do here even more. They definitely appreciate their summers now.
Hits : 1301