Coed, boys volleyball finish season, say farewell to seniors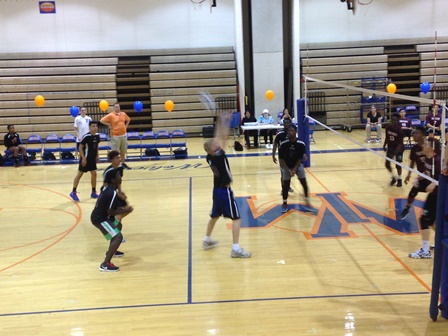 The coed and boys varsity volleyball teams said farewell to their seniors after losing their last games to the Paint Branch Panthers on May 3. 
The coed team finished their season with a record of 2- 8, and the boys team ended with a record of 0-10 after playing two hard-fought games against the Albert Einstein Titans on April 27 and the Poolesville Falcons on April 24. The 'Rines dominated the Titans with coed varsity volleyball winning 3-0. The boys team lost to the Poolesville Falcons 0-3.
The 'Rines' improvements really showed and they stayed on the offensive for all three sets. "Even though we lost to the Falcons, it was a building of confidence," junior Mikael Rabenmanajara said. "In this game we had good passes and had fun," he added.
"I give credit to my whole team [in the game against the Titans], because they held their own and they kept fighting," senior Miguel Carrena said.
"The cool part about being a coach is that at the beginning everyone is wondering what everyone's strengths are, but by the end of the season they worked to play well together and communicate together. I loved it and I'm gonna miss all of my seniors," coed volleyball coach Kauri Martin said.
The players had a great time during the season and are sad that it has ended. "I had a lot of fun," senior Eugene Orr-Turkes said.  "It was one of the best seasons of my life. It was amazing. The team grew and it was great be a part of it." 
"Despite only winning two games, the process of the beginning of the season all the way to the end was exciting," Martin added.
The team has grown together over the season and made major improvements as well as coming closer together as a team.
Hits : 1574