Photo Feature: Senior vs. staff basketball game
Watkins Mill seniors and teachers faced each other in a competitive students vs staff game on Tuesday, May 23 in the gymnasium.
The staff started off strong from the tip-off and the seniors put up a good fight in the two 20-minute halves, however, the staff finished the game with a win of 52-29.
"It was a tough game," senior Julien Payen said. "The Gorton-Chappell duo was too much for us to handle. We just weren't prepared enough."
The seniors starting lineup consisted of Cameron Scott, Michael Safo, Jack Griffith, Ezekiel Moody, and Abdoul Ndiong. The staff's starting lineup consisted of Spanish teacher Ligia Gorton, social studies teacher Matthew Quinn, paraeducator David Jones, CollegeTracks director Dom Chappell, and security guard Tony Garris.
The game "was fun entertaining and energetic and the student team said we all had fun," Scott said.
The game was refereed by principal Carol Goddard and assistant principal Ryan Graves, while social studies teacher Thomas Sneddon provided commentary on plays and kept the crowd entertained.
"Well played by both sides, not too aggressive but somewhat aggressive," Goddard said. This being both Goddard and Graves's last senior vs staff game here at the Mill was emotional and enjoyable.
"It went fantastic," Graves said. " I just wanted them to play and have fun."
While the game ended in a loss for the seniors the turnout for both sides showed how much the school enjoys these events. "We had a lot of people play and got a lot of people more involved. The more staff the more students to play the better," Quinn said.
Hits : 775
Leave a Comment
About the Writer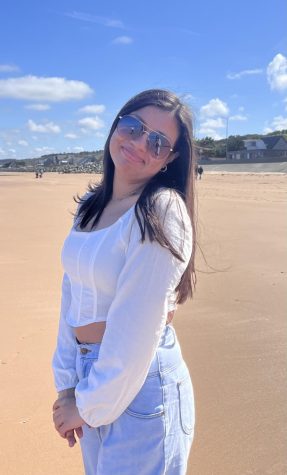 Emily Ferrufino, Sports Managing Editor
Emily is a senior at Watkins Mill High School and Sports Managing Editor for The Current. Emily enjoys exercising, reading, playing the cello, coaching...