Photo Feature: Prom 2023
Watkins Mill High School held its enchanted forest-themed prom Friday, April 21, 2023, at the Marriott Hotel at the Rio Lakefront from 7 to 11 pm. Juniors and seniors came to enjoy a night of food, show school spirit, hit the dance floor, and have fun with friends.
"For the venue, [Class Council 2024] wanted something both close and nice so that's why we chose Rio," junior Timira Texas Obomah, Class Council 2024 member, said.  "We just thought about what we would like for our prom. Things like photo booths and printed photos—we like that kind of stuff.  We [thought] people our age would like that as well."
Around 9 pm, Class Council 2024 leadership members announced prom king, queen, prince, and princess.  Seniors Julian Zamba and Gloria Salmeron Ventura won prom king and queen, while seniors Michael Safo and Samantha Valencia won prom prince and princess.  The dance floor was on fire as students danced with excitement and hype to songs like rapper Lil Uzi's newest hit Just Wanna Rock, PinkPantheress and Ice Spice's newest bop Boy's a Liar Pt 2, and more hip-hop songs.
Most spent their time on the dance floor, chatting with friends, taking pictures with friends and dates on the 360º camera, and enjoying the food which consisted of vegan spring rolls and chicken tenders, as well as an ice cream bar.
"Prom was nice. I really liked the atmosphere and everyone that came out and showed out their different fits. It was a really nice part of it [prom] everyone came and expressed themselves in different ways," Safo said. "I didn't think that I was going to [win prom king], but I wasn't surprised. It was cool, a little way to go out on top."
For seniors, prom was a chance to have fun together with friends and conclude the year with experiences they would never forget.
Hits : 298
Leave a Comment
About the Writer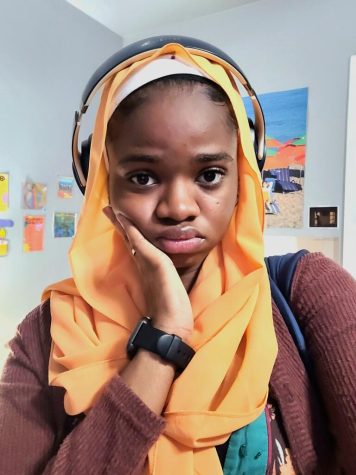 Huswat Olajide, News Managing Editor
Huswat is a junior at Watkins Mill High School and News Managing Editor for The Current. She is part of the leadership team for the Watkins Mill Minds...