Books that did not live up the BookTok or Bookstagram hype
Have you ever finished reading a book and you're like, "Oh? That's crazy."
It's when the book wasn't necessarily bad, but it's just the plot twist was NOT twisted the way it should have been. I wasn't even shocked; no feelings, no reactions, nothing. I don't like books where I feel like that, especially if they were hyped up by BookTok or Bookstagram because then I feel even more disappointed. So here are three books I feel you could miss out on.
We Were Liars by E. Lockhart
This book was highly-rated on TikTok and tells the story of dark secrets and lies behind the picture-perfect, wealthy Sinclair family. This book would appear in numerous videos where creators are posting their "five-star books," "books that made me cry," and more titles that indicate this book would rock my world too.
And I, like all those other viewers of the TikToks, decided I had to get this book.
And yet, after reading it, I realized that nothing about this book stood out to me. The bottom of the pyramid is where it lies. The plot twist that everyone was freaking out about was not even surprising to me. I can't say I guessed it, but it was like, oh. The book's climax was underwhelming and didn't live up to its name or hype.
The main character, Cadence Sinclair, is full of headaches. As she heads over to her family's private island this summer, she is determined to figure out what happened on the island two years ago when the headaches started. As a reader, when the big secret was revealed, it didn't feel all that big but rather anticlimactic to me, so that's why it's not highly rated for me. Also the writing style was also kind of annoying to me because
Out of
nowhere
It would just
Go like this,
maybe I
didn't understand the style, but it was just like, wow, ok. The poetry and prose tried to seem so deep, but it just wasn't.
Looking for Alaska by John Green
Before John Green wrote his most well-known book, The Fault in Our Stars, he wrote Looking for Alaska. In this story, Miles, also known as "Pudge," moves up to Culver Creek boarding school looking for a new start, or as he refers to it, for his "Great Perhaps." Miles has read a lot of biographies on people's last words, which is where he receives the idea of waiting for his "Great Perhaps." And I just think that John Green tried a little too hard to make Looking for Alaska edgy by included that bit as an integral part of Mile's character.
Then, as Miles is waiting for his "Great Perhaps," he is interrupted by—oh, Alaska. Alaska: the mysterious dark-haired girl who is as intelligent as she is beautiful, yet also allusive and spontaneous. One of her most (in)famous quotes is, "Y'all smoke to have fun, I smoke to die."
Like woah, sick dude! Soooo mysterious ooooooh. The smoking and drinking to seem cool was not a vibe to me. It felt like I couldn't connect to this book or its characters. The ending was pointless, even as it took a toll on the actual characters.  I just couldn't feel bad for them or say that's sad.
It Ends with Us by Colleen Hoover
Now, who hasn't heard of this book?  For some, it was a deep-cutting, emotionally raw, profound read.  And yet for me, it was not that great! I don't like not liking books simply because they are popular—after all, they are popular for a reason. But sometimes, that reason is just not enough.
Warning: The content below may contain spoilers and mentions of abuse.
I admit it had a promising concept! Our main character, Lily Bloom, (what a name) meets perfect Ryle, who ends up not being perfect, but rather abusive and trashy. Lily decides that she doesn't want that type of life. She navigates how she wants the rest of her life to look while rekindling an old flame with a young lover, Atlas.
Sometimes though, the writing is a bit iffy to me. I was not too fond of the cringy names and languages. This one quote remains in my head and consistently makes me cringe.
Hoover writes, "I walk in the door to my quiet apartment. I change into my quiet pajamas. I eat a quiet sandwich. And then I lie down in my quiet bedroom and open my quiet new book, hoping it can quiet my emotions."
That was not it. I didn't resonate with it. It's the absolute worst line from the book. I'm not trying to be sarcastic, but is a sandwich supposed to be loud or something? Are your pajamas loud? No, they're not, so like, *rolls eyes.* If you liked it, good for you, but it's personally not for me.
Reading is fun, but giving reviews and telling your friends about it is even better, except I might not know you, but if you agree with any of these, consider us friends. If you disagree with any of these, disagree quietly, please, and thank you.
Hits : 372
Leave a Comment
About the Writer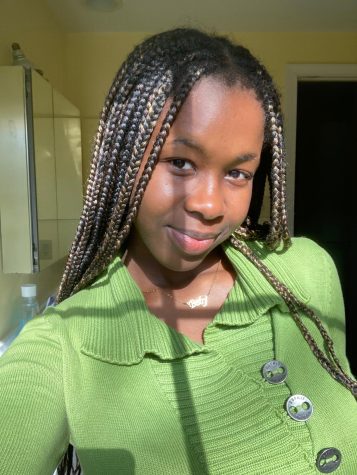 Obehi Eromosele, News Managing Editor
Obehi is a junior at Watkins Mill High School and News Managing Editor for The Current. She is an International Baccalaureate Career Program student involved...