Huswat's K-drama recommendations
Do you like dramatic shows with interesting plot lines that keep you entertained throughout? Korean dramas are the right things for you! If not, I think you'll enjoy K-dramas either way.
It doesn't matter what genre you prefer, K-dramas have it all. Ranging from drama, romance, humor, action, horror, to thrillers and so much more.
Here are some of my favorite popular K-dramas I think are worth watching.
Business Proposal

I personally love romance and comedy shows and those two combined are perfection. This is a romantic entanglement between Shin Ha-ri, a food researcher, and her boss Kang Tae-moo. She accepted an offer to go on a blind date in place of her friend which took a turn when she realized it was the boss of the company she works at. You should not only watch it because the cast just had the perfect chemistry with each other, but also because of its very catchy original soundtrack. Believe me when I say the songs won't leave your head. It is a very light and fun drama series that will keep you engaged all throughout.
Twenty-Five Twenty-One

Let me start this off by saying that this drama will leave you feeling empty by the end of it. It is kind of that "What will I do now?" feeling. This is another romance drama that switches from mostly past to present. It is a story of the beauty of friendship and youth that makes us believe that certain things may not last forever and also that not everything always goes according to the original plan. This drama is about Na Hee-Do, a member of her school's fencing team, due to a crisis their fencing team disbanded. She worked hard and transferred to a new school where she worked even harder to prove to the people who told her to quit fencing that she could do it. The other main character, Baek Yi Jin, whose character was played by popular actor NaJoo-hyuk. If you watch k-dramas, you may know him from other amazing k-dramas like Weightlifting Fairy Kim Bok Joo, Start Up, The Bride of Habaek, Moon Lovers: Scarlet Heart Ryeo, and more. This show is very popular on social media platforms like Tik Tok where they all collectively agree that this drama will leave you feeling sad and empty. Others who watched this drama don't like it because of the ending but I suggest you watch it and be the judge yourself. It also has an amazing original soundtrack, or OST, with popular artists like BIBI and Jihyo from Twice. 
Vincenzo 

Vincenzo is a crime K-drama. It is the perfect mix of comedy and thriller. It is about Vincenzo Cassano, an Italian mafia consigliere that returns to Korea after his boss died. His plan was to get some hidden gold and then leave, but he got sidetracked for a while to get in a fight with the Babel company. Even though it's not mainly romance, it does have its piece of romance in it. The romance evolves from enemies to reluctant allies, to friends, to close friends, to lovers. There was a great deal of suspense, wild cliffhangers, and shocking reveals too. This show is definitely for when you're looking for a new entertaining show to binge-watch.
Our Beloved Summer

This drama goes from enemies to lovers to strangers and back to lovers again. It is another romantic comedy that switches from past to present and follows the life of a former couple who are basically forced to come together due to a documentary being shot at their high school going viral. I have to say that the actors chosen for the main character roles were perfectly selected, they made you fall in love with the story of the characters and had great chemistry which inevitably made the show so much better. There is also a very interesting love triangle with jealousy and misunderstandings which never fail to make a good drama series. It is truly worth watching!
Better Days

This isn't a K-drama but a 2-hour Chinese drama that I HAVE to add on here. It was recommended to me by Obehi and I will forever thank her for that. When I finished it, I called her immediately asking her why she would ever do such a thing to me, why she wanted me heartbroken. When people say "I couldn't stop thinking about this." This was the literal definition of that. It left me heartbroken. It is a drama movie with romance that is based on a novel about a bullied high school student who befriends a small-time criminal she practically saved on the street. She is also a prime suspect in the murder of a teenage girl and she copes with the pressure from the Gaokao exam. She is bullied ruthlessly, and I mean very very badly. That is your trigger warning. Excessive bullying! But in the end, it was TOTALLY worth watching. 

You should definitely watch these. The beginnings are usually slow and if you catch yourself swaying away from these shows, you should remember that the endings are what you're really waiting for. 
*Slight spoiler ahead for Better Days*
I was not even 40 minutes into the movie and I was tearing up already. Mind you, I am not a person that usually cries watching "sad" movies but this was something else. I knew nothing about this movie beforehand and I'm sure that played a part. The ending will also get you sobbing atrociously. Like bloodshot eyes and snot running down your face, sobbing. I think it's an amazingly created movie that everyone should watch, but do what you wish with this information!
Hits : 1439
Leave a Comment
About the Writer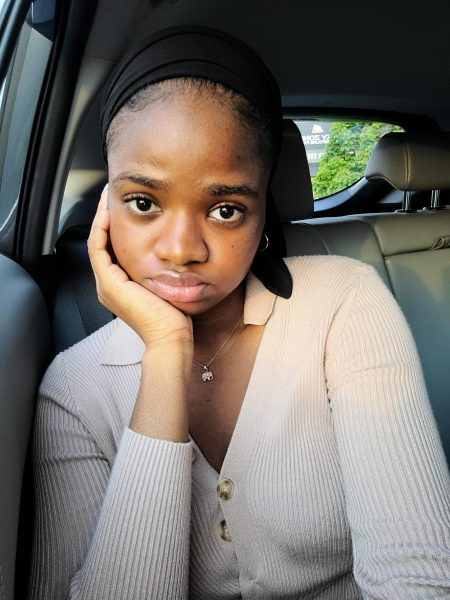 Huswat Olajide, Editor-in-Chief
Huswat is an IB Career program senior at Watkins Mill High School and Co-Editor-in-Chief for The Current. She is the president of the Minority Scholars...