Principal Goddard was a bodybuilder
Who was a teacher and a bodybuilder while in their 20s?
(a). Franco Columbu (b). Dorian Brandon Curry (c). Stefi Cohen or (d). Carol Goddard
If you guessed D, you're correct!
Carol Goddard, principal of Watkins Mill High School, has been known for being very athletic in her middle, high school, and college years. She was a teacher and a bodybuilder and was Miss Oklahoma and made it to third place in Tulsa.
Before she started bodybuilding, she would play basketball, field hockey, and especially softball. "We traveled all over the United States playing [softball]." said Goddard.
"I was very much in shape. Very. I was a lightweight bodybuilder, and I could build muscle very easily. So it was easy… at the time, my boyfriend was also in[to] bodybuilding. So both of us could do it at the same time," Goddard said.
When she was 25-30, she was qualified to be a bodybuilder for the Americas competition but declined because it required hard work. "When you work out, [the] upper body and then lower body. You don't want to do that on the same day," Goddard added.
"It was hard but gratifying," Goddard said. "When you are posing, and during competition, you had music and a routine you did," Goddard added. During competitions, you're also competing against people your size. "You have a large crowd, a lot of people watching you," Goddard said. "It was fun."
Some advice she gives to the students who want to become a bodybuilder is the health benefit. "If you stay away from steroids and things of that sort and you just do it naturally, I think it's a healthy way to create a space for healthiness." Goddard said. She added that you have to watch what you eat and work out.
Even after leaving the bodybuilding community, she still exercises and stays fit, "I still go three to four miles [and] walk my dogs every morning before coming to work," added Goddard.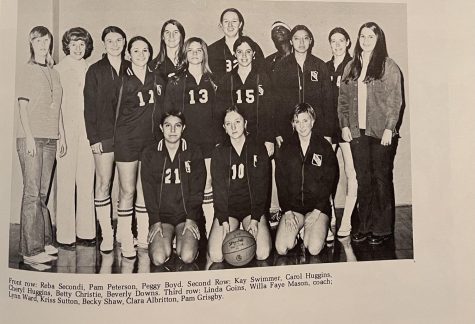 Hits : 329
Leave a Comment
About the Contributor
Ashley Alvarez-Fuentes, Features Editor
Ashley Alvarez-Fuentes is a Pre-International Baccalaureate Diploma sophomore at Watkins Mill High School and is the Features Editor and Business Manager...