Fashion through the Decades: The Roaring 20s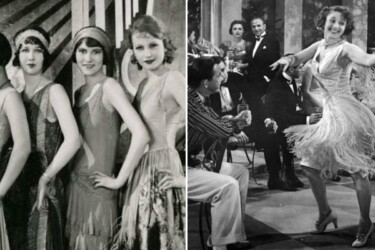 As the times were changing and recovering from the first world war, the 1920s fashion era is unparalleled by the sheer magnitude of cultural change. From the women's suffrage movement to the postwar economy, major shifts in fashion launched in this era of uncertainty.
The 1920s fashion was a stepping stone for the iconic twentieth century styles. The First World War had an irresistible effect on society, culture, and fashion. There was a new simplicity to styles. This simplicity created what is now known as the flapper. The flapper look was created with a dropped waist and creeping hemlines that could be created in economic fabrics. One of the most prominent designers of this decade, Coco Chanel, popularized this style.
While evening dresses still mostly reach the ground, many of the styles followed the popular hemline trends of daywear. Although the construction of the dresses had simplicity, the addition of beadwork, sequins, and embroidery all helped create the glamorous nighttime looks of the decade.
Flapper style wasn't the only major fashion trend for women in the 1920s. Sportswear worn as daywear gained popularity for women. Sportswear had long been an acceptable form of casual wear for men, but it finally became acceptable for women. This popularity also came with the popularity of tennis and thus tennis-inspired fashion. Clothes such as tennis dresses were made fashionable.
As looks became more androgynous, many women wore shaping undergarments to achieve specific looks. The ideal body appearance was a boyish, androgynous, and youthful look. This is shown through the loose silhouette of the short and swingy flapper dress. This was a large contrast from the recent Victorian-era silhouettes of exaggerated hourglass figures.
The everyday look for women was mainly the loose House dress. House dresses were loose pullover styles in colorful gingham, plaid, vertical stripes, or solids. These dresses were typically paired with an apron during days in the home. Although the widespread use of the apron met its end by the late 1920s.
The women of this time wore a lot of hats in public. Popular hats such as straw hats with wide brims were popular for outdoor life. Turbans, berets, and the close-fitting, narrow-brimmed cloche hat are the most iconic women's hats of the decade. All these hats were often decorated with ribbons, embroidery, flowers, and bows.
Men's fashions didn't change much since the Victorian era. The dressed-up, buttoned-down suit look became more of a casual style, as suits were often worn in public. In the United States, men's suits took the wider and looser silhouette with more conservative colors.
Hits : 230
Leave a Comment