Fashion through the Decades: The Gilded Age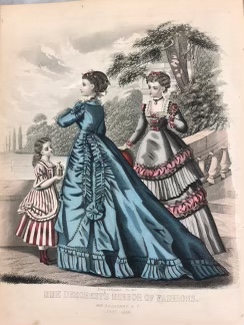 Since the Met Gala completely missed on the theme of Gilded Glamor, the Gilded Age fashion deserves some justice. Although, based on the Met Gala, it seems many people don't even know when and what the Gilded Age is.
The Gilded Age was a period between 1870 to 1899, and the term was coined by Mark Twain in 1873 to describe the divided time in this country's history. This era was known for its explosive economic and industrial growth, along with major political corruption.
During this period, families like the Vanderbilts and Carnegies rose into prominence with their large fortunes, while New York served as the economic and cultural epicenter with Ellis Island accepting new immigrants.
While the country was rapidly changing, the men's styles predominately consisted of suit variations and women's styles included floor-length dresses.
The fashion began to grow more extravagant as it reflected economic prosperity, as well as the influx of silk, tulle, and lace. Embellished dresses with large trains, along with fancy beading and embroidery were common. Men and women from the Gilded Age generally wore many layers of clothing. Corsets were worn with tea gowns and dressing gowns, as they were an important staple in a Gilded Age woman's wardrobe.
A key piece for a woman of status was a Dolman style mantle designed to allow for easy movement in and out of carriages and also could be left on during short social visits. A mantle was a cape-like overcoat, suitable to wear with the large skirts and bustles fashionable in the period. Many of these mantles had bold paisley patterns, velvet collars, and fringe decorations to create a dramatic statement.
Every women living through the Gilded Age wore hoop skirts, regardless of socioeconomic status; wealthy, middle-class, and working-class women all indulged in donning a hoop skirt. The hoop skirt was used to create the infamous bustle in the back. Layers upon layers of the fancy dresses, from the corsets to the bustle pads to the underskirts and overskirts, it is easy to see that women's fashion during the Gilded Age peaked in extravagance.
Menswear during the Gilded Age included mostly multi-piece suits with a various types of overcoats. Some of the most popular overcoats were the morning and frock coat, which were classified as everyday styles and paired with top hats. The working-class men wore sack coats, typically styled with a bowler hat. Facial hair was also very popular among men of this era.
The Gilded Age was filled with extravagance in fashion and prosperity in the economy. From the iconic corsets to the infamous bustle of fancy dresses to multi-layer suits, it was truly a time to remember. Although, should the fashion of this era come back into style?
Hits : 217
Leave a Comment